Under the Cloche
January 14, 2020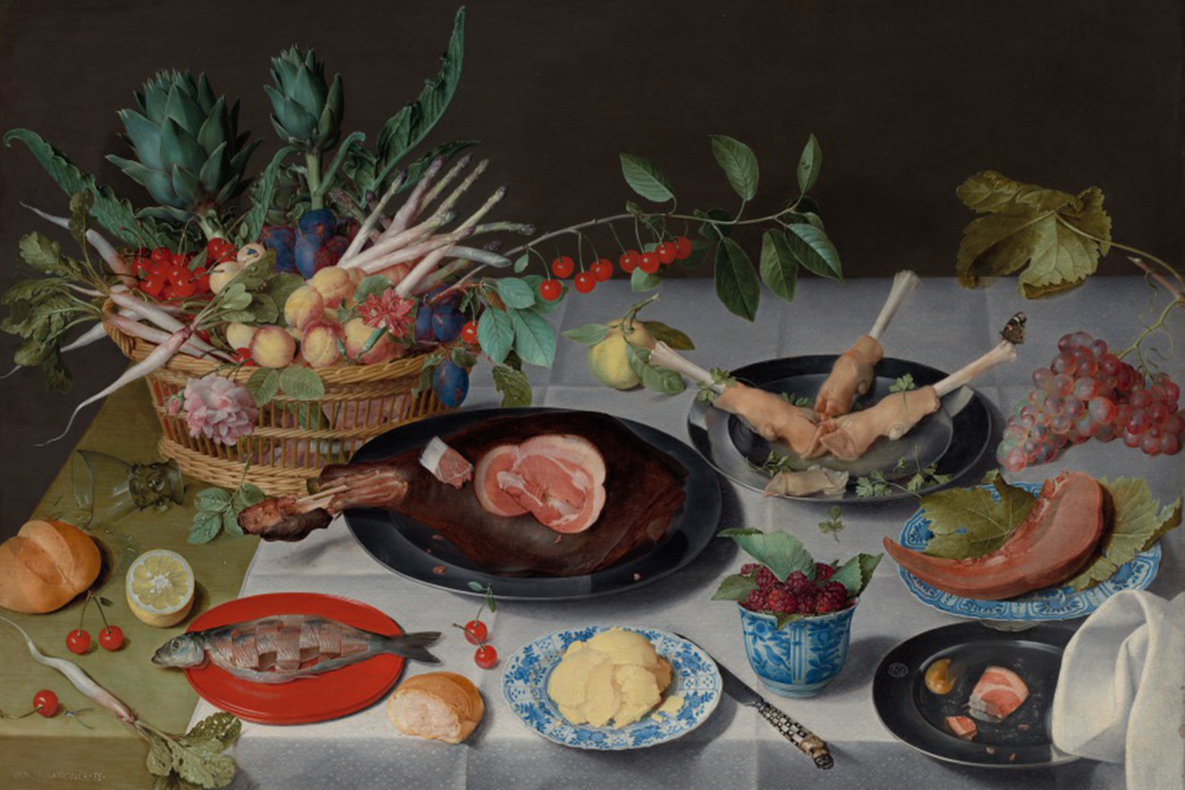 We asked Kashina, an experimental perfume writer, to write a food diary. What follows is a dreamscape of flavors, and recommendations of perfumes for foodies. To taste is to smell!
Under the Cloche
Steamer trunks of menus, faded lithographs, gold and pink tassels. Moth-bites and crumbling paper. I open them eagerly, in love with each one, falling into secret worlds: vanillin married to browned pages of decoupaged scrapbooks, multi-course banquets by candelabras, ocean liners. Lost foods (Pommes Anna, The Pannekoek House's Postum and buttermilk), imagined nibbles, broken gilt-edged porcelain saucers, fine-bone china and cutlery so heavy and regal I can barely lift it. I think the tastes and savors are beyond my grasp, but perfume offers a handful of keys. Cornucopias floating, recreating.
I tie linen serviettes around my neck, a streamer, all colors: the plummed point of an artichoke leaf, Cinderella pumpkin orange, gold and cream like an ear of corn. I'll use a different napkin for each course. They'll disguise my diggings and over enthusiasm. Red-and-white check for tomatoes. There's a lobster bib, pincers displayed on lettuce leaves. Mahogany drape for a kaffeeklatsch and sour cream cake crumbs. Asparagus fork, little sample vial, oyster fork, atomizer, serrated knife, Kleenex, egg cup, five-milliliter-mini, and slotted spoon. A tasting menu in vapors.
BREAKFAST. Coffee, without additions. Various bread rolls, Parker House-brioche-nutted. Pancakes and syrup.
Sound & Fog by Filigree & Shadow. An arabica swirl to widen my eyes and levitate me out of sleep-dust slowness. Copper samovar, bitterness – no milk please. Black straight. Dip your croissant in the cup, film of salted butter afloat. The clink of the spoon in the mug. An autumn. Soft layers (of phyllo).
Bois Farine by L'Artisan Parfumeur. Hazelnuts in the brioche, cradle-nut in the dough. When your compact's empty, use flour. Dry between your fingers, static whiteness, soft fade. It strokes me and leaves pale streaks. I drop my stale bun onto the floor. Picked-over bread basket, flour-funeral, the handkerchief to keep warmth in is really a winding cloth. Papery skin. Ghost's breakfast, see the white matter smoke down their esophagus. Baby's breath on the table. All the diners look enervated. The carbohydrate-feed doesn't last either – just enough for one little croissant-crescent.
I'm pounding at the boulangerie doors. I'm still hungry. Give, give!
Le Participe Passé by Serge Lutens. The larder opens further. Feathers and hearts out of foam, a caramelized milk mustache. Deep burnt toffee, lingering undissolved sugar granules, Demerara grit. Capuchin-robe and a teaspoon with a royal orb on top. Drink your espresso quickly at the bar, standing up. Why do tea leaves get all the glory of fortune-telling? There's an outline of Morocco in the dregs, a slipper, a globe, a grinning rhesus. A good child's stroop and sausage-links, an all-breakfasts delight, a Kilimanjaro of 49ers. Toast service. Skate on the sugar shack sirop d'érable ice mirror. Scale the flapjackery. Maple sluice. You could till a field singlehandedly with this under your belt. Paul Bunyan plus Babe the Blue Ox twinned. Wheaty-O-One. This out-breakfasts them all. Cröonchy Stars and cereal mascots. Who drinks the milk?
Today is built on anticipations and enthusiasm—happinesses offered by my eyes, my mouth, my nose. I unfold the cardboard menus, run down the lists of dishes with my fingertip, tongue falling foreign over accents and italicized terms, break the wax seals and bread crusts, burst pods and untie golden threads—will the interiors surpass the gilded outsides?
APPETIZER. Pick-nick, foods on sticks. Water crackers. A cheese wheel. Milks: cow, goat, ewe. Fromagerie. Berry-fig compote.
Mmm by Hilde Soliani. The cheeseboard and its accompaniments, quince marmalade to fig conserve and candied citrus. Every cheese is of the running, gooping kind – difficult to corral the culture onto the horn-handled spreader. I feel plumper, happier. My body waxes forth luxuriously. Calcium plus fat binge, volupt-meets-seeded-cracker, olive pungent and Camembert drip. Triple-quintuple-septuple cream. The blooming rind can't contain it, escaping melt, a burrata bulge out the rubbery seams. Like garters. Or a baby. It's running over the coffee table, the living room carpet, your loafers. Some cheeses are decorated with nasturtiums or pine needles – a few hours later the pyramid is covered in incense stick ash, a depleted bouquet garni.
Dirty Fig by Heretic. Figs, secretive. (Slide your hands underneath the fence and pluck those tomatoes. Those fruit trees swaying beyond that side are yours. Any branch that sticks out, offers itself, unruly, is yours.) Rambunctious-exuberant sisterling to Diptyque's L'Ombre dans L'Eau, raspberries on all fingers and jam on the gingham. There's a flash of light when you cut into the fruit. Your mouth is deep red now. Overripe to bursting, telltale wineish stains—scratches from blackberries and rosebushes intertwined on my forearms, the roses suck up the purple, the blackcurrants bleed rose, the figs blush bleed. I found a good patch. I won't tell you where it is.
SALAD. Red and white namasu. Picked garden-fresh just for us, an edible bouquet.
Series #10 CLASH Radish Vetiver by Comme des Garçons. Watery pepper and snap, as vivid as the rainbow of a watermelon radish. Boot leather and oil slick, chartreuse tar and magenta flare. Crunch and contrast: fresh and earthy, cleansing and humus-rich, pure crystalline bite and perk-up-of-ears. Springtime crispness, snap-pea's verdant stems. Push out of the ground, try very hard, upseed, rabbit-nibble, pet the kits, an Easter basket of Cherry Belles and French Breakfasts. Delicate, reedy, herbaceous, first vegetable growth of the season.
I Love Les Carottes by Honoré des Prés. Pull it out of the ground, tip to root. Poil de carotte on the bedside table. Crisp as you peel them, mounds of orange in the cellar. Ivories (anthocyanin violets), green cores at the top. I'm doing myself good. Produce as haven and shelter. Stay in the cellar with me. I can step into this fountain-shower of juice and be calm. Vichy carrots sparkling in the mineral sugar. I steal the snowman's nose with my teeth. Raw crunchy carotene haze. Invigorating and health giving, I've eaten, drank so much I can see in the dark. Energy-flow. More robust than spa food–dirt under my fingernails–the hyper-hyper mascotte of Bunny-Luv. I bend my head and suck all the mandolined and zoodled strands of carrot into my mouth like spaghetti, shove all the parings in with my hands. I am all aglow with the B-Vitamin intake.
Sometimes obsolete food sets snares: manufactured dyes and joint pain from MSG. Booklets on entertaining from now-forgotten companies, dogeared and written upon. My tongue withers at the smell.
A CONDIMENT. Artificial sweetener in the packet.
DOULEUR! by Bogue. Crunkled, faded smell—elaborate saccharin-laden tortes in 70s slimming recipe cards—metallic melon, razorblades in the treat-or-trick apples, fish scales, candied rosepetals, shoelick. Cheap bath goods in a derelict motel. Ultra-high-definition with every pore erupting. Paint screech. B or C grade pulp novels circa 1965 from publishing houses like Brandon House and Holloway House. Coins on the cadaver's eyes to guarantee ferryway. Carpet freshener in the office, the cleaners can't get the staples out. Alexander Trocchi writing as Frances Lengel, the titles Thongs and White Thighs. Tang drink powder for NASA. It's still grainy after you mix it.
ENTRÉE. A child's sup and roasts. I sharpen my knives and nose in wait.
Pizza by Demeter. I just laughed for two minutes straight. Steam escapes from th' noisome McCain Pizza Pocket puck. Microwave crust dough sog, golden yeastiness, limp pepperoni discs and Boyardee rings of sugary tomato gloop. Somewhat pliable mozz. A sprinkling of dehydrated oregano. Three minutes on high. Grade four after school special, accidentally putting metal in the nuker. The longevity is unnerving, for a purportedly novelty scent. Salt wreck.
L'Autre by Diptyque. Trenchers heavy with peacocks' tongues, entire pheasants and capercaillies larded and piquant with cumin and fenugreek, grains of paradise, exotic peppers, verjus and agrodolce. Medieval banquet, the diner beside you belches and sinks his teeth into a capon leg, drunkenly chowing and braying about how capons come to be capons. Lambs seethed. Swans rotisseried and refeathered. Your lady companion's hair is adorned with flowers—one falls into her goblet of hydromel which she laughingly brings to your mouth—there's a smear of mutton grease on her chin and stuck-and-stray half-bitten caraway seeds.
Edition 02—Shiso by Goop. Ready the spit and carving knives, this will be feast for us. Pungent cupboard spill of every spice and herb you own: umbels in abundance, ginger, cumin, shiso, Lawry's seasoning salt, all to the service of the meatstuff. Sizzling fat in the pan, olive oil's the conduit for flavour. Travel on to my roast. Roll the porchetta in dried herbs. Fan the loin in case it gets too hot, blow. Grease fire. Catch the drippings in a cleaned out frozen orange juice can and use the economy fat to sauté eggs. Blanketed in herbs and baked in a pit for five hours. Cook without a recipe: "You have to listen to the food." Pay attention to the browning, crust, and tenderness. It's so good. I could fill myself on this, buffet retakes. I look down on my empty plate sadly with picked bones and gravy swipes. Denuded rosemary twigs as kebab skewers. My arm is basted nicely. Draw the grill marks on with a faulty Sharpie. Tendons. Char-broiled. So good. I'll wear this beef medallion around my neck. It gleams with slicks of jus. Well-done to the chompers. Fork to the longpig posterior. It's a bloody marvel.
INTERMEZZO. Citrus granita.
Aqua Allegoria Limon Verde by Guerlain. Mouthful of watery emeralds. The glass is frosted. Dip in with the parfait spoon. Greenbelt ice to melt in my mouth. Herbed sherbet and a slight pucker. Off sails away the salt and grease from my overburdened palate. That's all I wanted, that minute. You performed well.
I'm overflowing. Perpetual tin can opening sound to a cat.
DESSERT. DESSERT TOO MANY. Cake, cake, hotel buffet cake, ice cream.
Corpse Reviver by Bruno Fazzolari. Cake for decoration, showpiece cake. Almost edible. Taffy pull. The molasses strands turn to camphorated swathes of soap bubbles between us. Chew . . . clean. Warm body peering through, soaplands of icing and suds. Sprays of clear, gemlike flowers, formed of isomalt.
Acqua e Zucchero by Profumum Roma. Vials in front of me: salt sea water salt sweat and sugar dilute. Switch them around, put them under a hat, dancing basketballs. Baumé scale. Tell me which one is which. I take an exploratory pass with my tongue, broad and slick. S'lipped. Shut my eyes for a moment. Clear fluid cells. Salt sea crystals, panning, cheesecloth to sift out the impurities. I take a sip of water (plain). Recover. Another slug. Fondant coating, smooth the icing down with a spatula. A sugared angel on top. Wilton cake piping techniques, forty-tiers-high. Italian meringue, I found you. Complete surprise: black licorice comfit filling, aniseed middle, an angel-food cake layered with charcoal stripes. It's not often that wedding cakes are grey. So much taller than I. Fogsome torte bound with clouds.
Déliria by L'Artisan Parfumeur. Honeydew with a Caramello deep in its womby seedlined center, the same flowing consistency, molten sweet. Break the chocolatey shell. Put your tarot cards away, the little inspirational peepings inside Dove or Baci wrappers are what I live by. Fresh n fat, stick your fruit kebabs into the chocolate fountain, mind for children and people that sneeze.
Vanille Abricot by Comptoir Sud Pacifique. I prepare myself by slinging a copper bowl tied with red ribbon to my neck, to catch all my rapidly leaving falling teeth. Porta-cuspidor. All the sugars known to man, all suffixes -ose, combined in this unholy living cavity. Onslaught of terrifying sugar and fruit pectin, clingstoned to death, unwrapping tentacles of sweet. Apricot topping on a vanilla cream horn, Big Scoop ahoy, abricotdabra, Nellie Melba cowers and shrieks sweats in fear at the sundae growing and growing bigger than skyscrapers. Unrelenting glucose dambreak. It's gargantuan, the dragon pluming candyfloss smoke in a kindergarten diorama. It lays little fondant eggs of terror. Powerfully, gluttonously sweet, I don't/want it, all the sample spoons, make a dinner of going from one ice cream parlor to the next, waffle iron imprint on my face, I push my teeth back into the sockets, ouffffsouffffléééeee, I'll never reach the bottom of the cone, there's too many jimmies on this, hundreds and thousands, Dream Whip, they're not rinsing the spoon between scoops and the flavors are getting muddied and imprecise, my head is an apricot pit cracked to extract the kernel to flavor biscotti, my teeth are loosening, biscuit with jam in the middle, Linzer-hearts as Sue-Lyon-glasses, ovenhearth, spoonability, it's nice but my teeth have loosened, Prunus armeniacatastrophe.
DIGESTIVES—TEA. Mountain tea, rose petals, chamomile.
A dream-dram after all the caloric excess. I'll wipe your mouth for you. There, no more crumbs. Galeffi v. Brioschi v. Crastan. Put our ears to the herbs and bubbling—wave a wand of dried herbs over our palates, it'll clean you, settle, ready-you-me-for-sleep. Close the menus, seal up the boxes, I'm full and spilling at the sides from joy.
Sideris by Maria Candida Gentile. Silvered leaves, angora, foil-wool, to protect against, resinous, bend the twigs so they fit in the teapot, quieting, wards off malevolence, sweetly carbonated, a kiss and a fizz, beeswax kneaded with herbs and roses, hang the wax tablet with your linens.
Oeillères by Roberto Greco. Herbed-chamomile dankness, thick and unfiltered (vinegar or kombucha), liquids that cling to the glass. Worn yellow, cleaned out cupboards at an estate sale, I found a cache of expired medicine. What witch brewed this tisane. The line from distress to de-stress—odd twists of the wrist, gymnast's ribbon, glide from viscous to airiness—to rest my head on, slept-in bedsheets, tremulousness, balance-beam.
Chamomile Flowers by Ojai Wild. Bronzes fading. My tongue's unknotting gently. Slide into repose. I press my lips to the ceramic. There's a divot for my thumb in the celadon mug—how thoughtful. Soft home inside blossoms. Warm, getting warmer. It feels sweet against your shoulder. Crackle go the dried flowers between my fingers. Sinking to the bottom I'm the sediment with my knees losing a-loss I'm gone. Sending. I fall asleep with my tongue and palms goldenrod-yellow and my head in grasses.