Bellwether Boots
May 8, 2017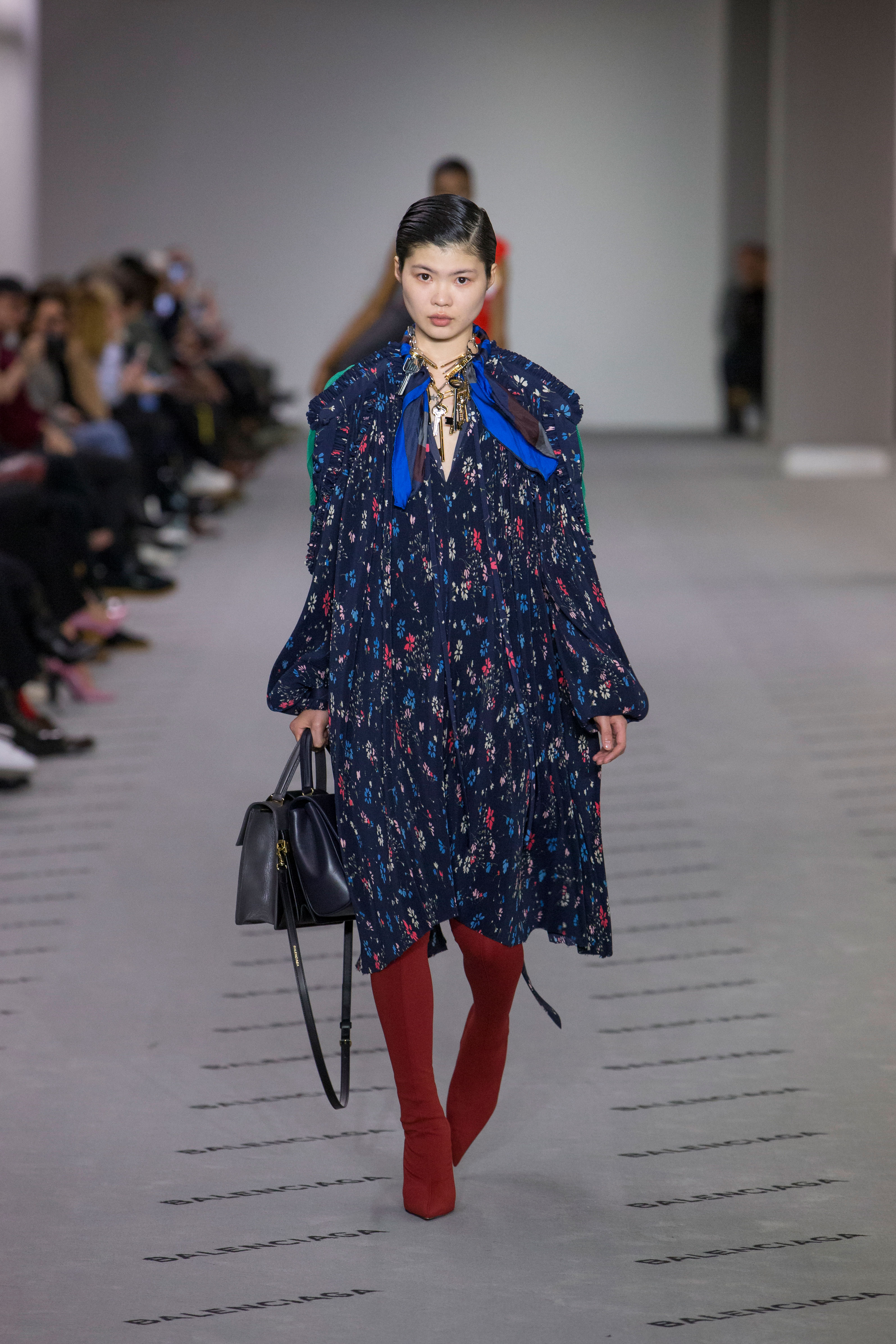 At Balenciaga's Fall/Winter 2017 runway show in Paris, one model wore a loose, floral-patterned dress with red thigh-high boots as richly saturated as the Soviet flag. It's a look that has become a signature for Balenciaga and Vetements designer Demna Gvasalia, or perhaps more accurately, for his collaborator, stylist, and muse, Lotta Volkova. Gvasalia spent his childhood in the former Soviet Republic of Georgia, while Volkova grew up in Novosibirsk, the third largest city in Russia, and the two have made their influences well known—mainly, the contradictory styles that thrived in Eastern Europe just after the fall of the Soviet Union. Theirs is a shared aesthetic that can be traced back to 1991, when items previously made scarce by the captive market, like American blue jeans, began flooding popular culture in eastern Europe. (The most in-demand Vetements item is their reconstructed jeans—a collaboration with Levi's.)
The peculiar style of teenagers in Russia after the wall fell looked a lot like old-world values accessorized with newly available '80s American sex appeal. Gvasalia has said that certain "rose-printed plastic tablecloths" in Vetements' Spring/Summer 2016 collection were an ode to his grandmother. Balenciaga's Pre-Fall 2017 collection featured babushka-like bonnets. The brands are both better known for their street-style staples, like puffer coats and branded hoodies. But the Balenciaga-Vetements styling trademark of an oversized, cheap-looking garment in traditionally feminine materials paired with something as emblematic of Western style in the '80s as thigh highs explains it best: in '90s Russia, East met slightly dated West, creating a unique style all its own.
"Demna Gvasalia's building of an identity for Balenciaga has happened at such a speed that there's already a whole inventory of recognizable things the house 'owns,'" writes Sarah Mower at Vogue. "Seeing a pair of skintight pointy stiletto boots [or] a cheesy retro floral dress…will provoke instant Pavlovian brand recognition." Gvasalia has designed for Maison Martin Margiela and Louis Vuitton, but it was the viral success of the collective he founded in 2009, Vetements, that put him on the radar. Its first runway show, in Paris in 2014, was alarmingly influential; the tall, blank boots shown there soon flooded the feeds of fashion fans.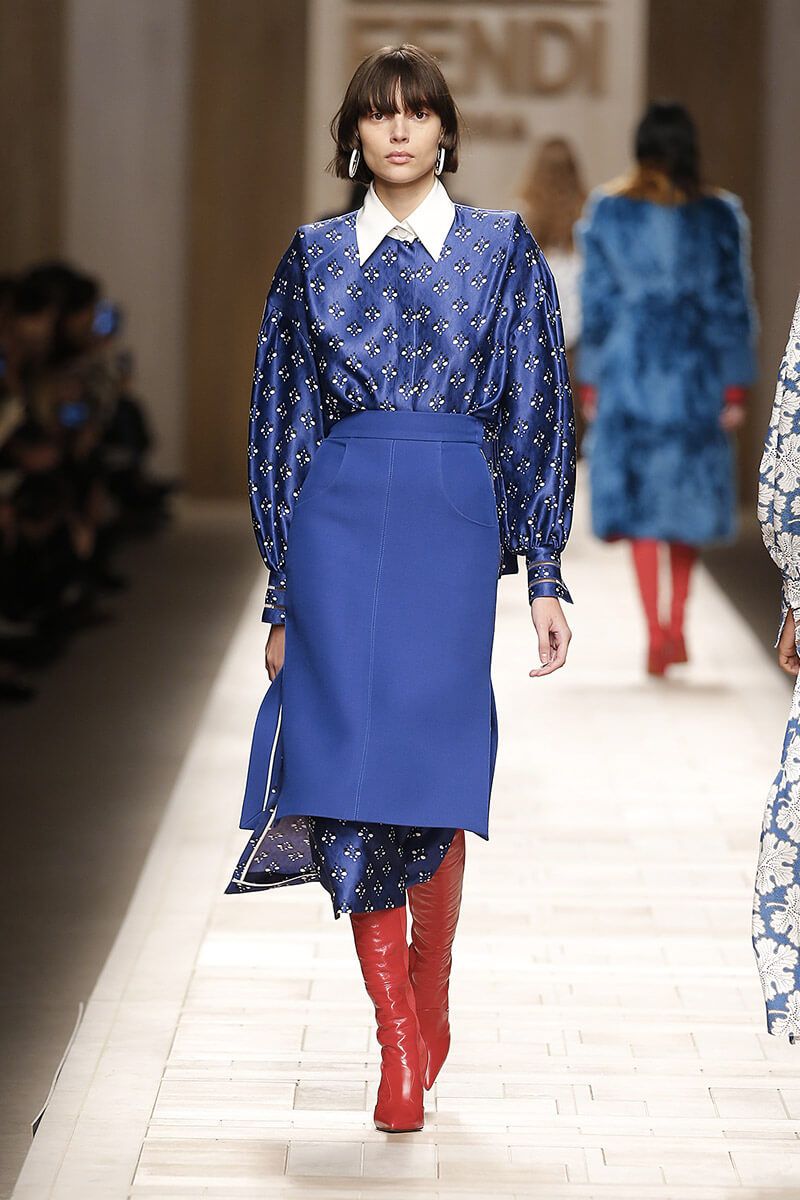 Versace and Dior tried styling seamless thigh highs under drape-y dresses almost immediately—with caged metal platformed stretch suede and Lucite-heeled patent leather, respectively. Surprisingly similar in price, Versace and Dior versions didn't resonate as well as the high-low juxtaposition set up by Vetements boots (some of their styles have Bic lighters or road reflectors for heels); the slightly tacky sheen designed by houses at the top of the heap didn't quite cut through the luxurious feel of their surroundings the way the more ill-fitting underdogs did, looking like electric tape poking out from under the carpet—an exposed mask under layers of other stuff. In 2015, Gvasalia was named the new creative director of Balenciaga, replacing Alexander Wang.
During F/W '17—meaning the official fashion weeks of New York, London, Milan, and Paris in February and March—that shapeless silhouette paired with extra-tall, relatively unadorned boots—especially red ones—was everywhere. Just look at the shows by 3.1 Philip Lim, A.P.C., Aalto, Adam Lippes, Agnona, Aquilano.Rimoldi, Calvin Klein, Céline, Christopher Kane, Ellery, Emporio Armani, Erika Cavallini, Fendi, Francesco Scognamiglio, Giambattista Valli, Giorgio Armani, Isabel Marant, Jil Sander, Jil Sander Navy, Joseph, Kenzo, Krizia, Maison Margiela, Marni, Maryam Nassir Zadeh, Missoni, Miu Miu, Mulberry, Osman, Pascal Millet, Prada, Rebecca Taylor, Roksanda, Sharon Wauchob, Tomas Maier, Tory Burch, Valentino, Vanessa Bruno, Vanessa Seward, Victoria Beckham, Vionnet, Vivienne Westwood, Vivienne Westwood Red Label, Wanda Nylon, Y/Project, or Zuhair Murad on Vogue.com.
Even Fenty x Puma and Yeezy paired red boots with tracksuits reminiscent of another Eastern European stereotype. By Paris fashion week, one could have created a game of red boot bingo while scrolling through catwalk slideshows. About halfway through each collection, there they'd be: fire engine red, peeking out from under a drab, almost comically conservative sheath.
"There is really nothing in the world that can be compared to red shoes," writes Hans Christian Andersen in his cautionary fairy tale, "The Red Shoes." Here, cursed red shoes symbolize a poor girl's stubborn vanity. Eventually, she has to cut off her own feet to remove them. Kate Bush's "The Red Shoes" re-tells the fairy tale, making the pair—a gift from a fellow dancer—carry her to hell. The ruby slippers in "The Wizard of Oz" remind us that a heroine has "always had the power to go back to Kansas;" they remind us, too, of the jealousy and revenge waiting for all women: picture the Wicked Witch of the East's collapsed, curling feet that relocate those shoes to the wrong girl.
In David Lynch's Wild at Heart, Lula is haunted by the idea that she would ever have to return to her broken home. All the same, when she is in danger, she clicks together her bright red kitten heels. The opening credits of Showtime's "Red Shoe Diaries" explains that it was a pair of gifted red shoes that gave away an affair in which the narrator's fiancé was involved. Upon its discovery, she committed suicide. As these characters try to go it on their own, they go too far. Maybe the most classic reading of the red shoe trope, then, is as perilous independence.
It's worth noting that today's influx of red shoes on the runway are not Mary Janes or pumps, but boots in sturdy materials—a socialist twist on a classic prop. These boots' shape reads sex, but their blankness reads utility: neither strappy nor sparkly, and kicking out from under drab khakis like Red Scare secrets.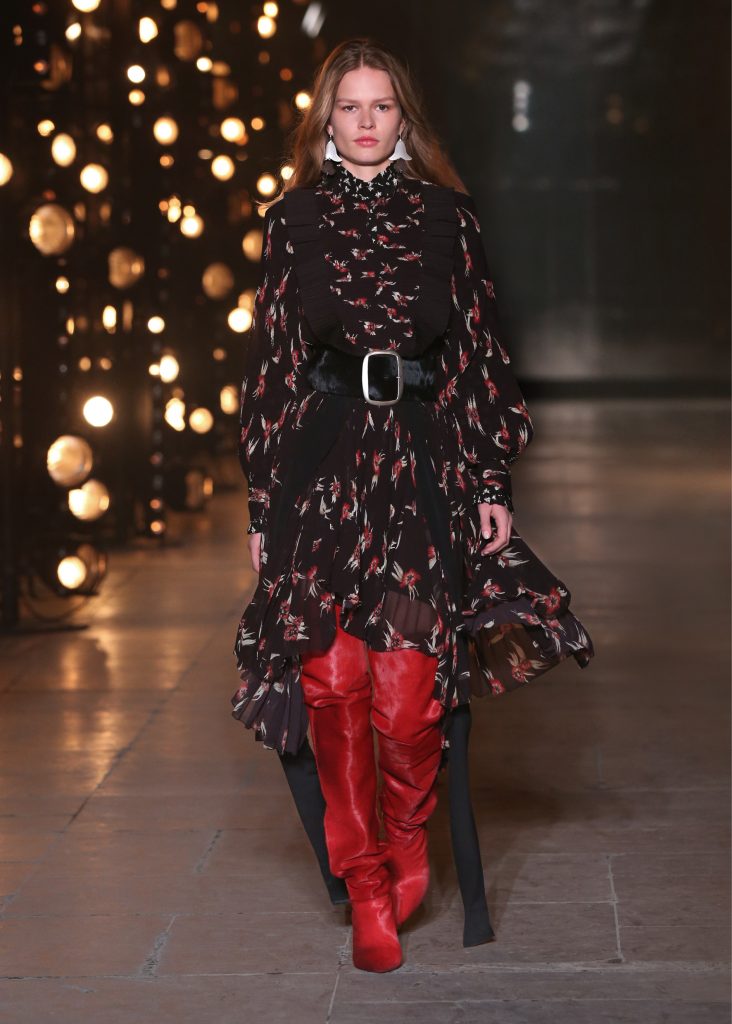 In Vincent Gallo's Buffalo 66 (1998), Billy, too, has lost his footing in a blue-toned world of dirty snow and fluorescent lights, led astray before finding the love that was always within reach (with the girl he'd kidnapped). His boots—an echo of ruby slippers, made in durable, seamless leather—are a likely reference for the boots found on 2017 catwalks, which also appropriated plenty more from the '90s, an era obsessed with such contradictions as jolie laide (direct translation: "beautiful ugly"), heroin-chic, and sleeping with the (Cold War) enemy.
Starting in the late '60s, the Soviet Union saw reports describing smugglers being stabbed and robbed of black market jeans. But the causes of violence over so-called "Texan trousers" are disputable: American denim was very much in-demand, but it was also anti-Communist in that it was symbolic of Capitalism. In other words, if someone was jumped for their jeans, it could have either been a crime for fashion or a hate crime. Katherine Damm writes about the phenomenon in her essay "Soviet Denim Smuggling – The History of Jeans Behind the Iron Curtain":
The simple fact that young people were so obsessed with any product contradicted Party ideology. Members of the older generation lamented the substitution of material goods for spiritual ones. Jeans culture was a type of philistinism, and slogans like 'prosperity without culture' and 'predatory consumerism' entered into anti-jeans rhetoric. Parents were chastised for indulging their children, and encouraged to talk to them about fashion in the context of their intellectual, moral, and social potential. Then, there was the nature of denim itself, known in East Germany as an "embodiment of Anglo-Saxon cultural imperialism." A 1979 Guardian article went as far as to say "official Soviet doctrine has held that Western jeans, being figure-hugging, are a symbol of Western decadence, and thus to be avoided in the same way as pornography."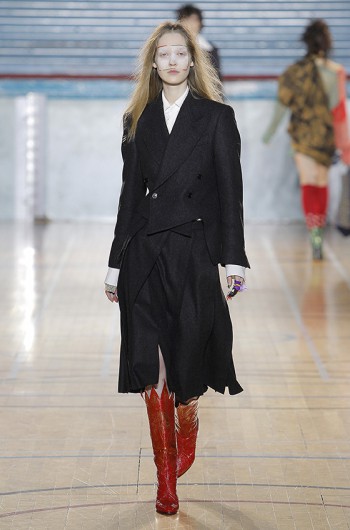 Those convictions didn't fall with the Iron Curtain, and the Russians who embraced Capitalist ideals in the '90s—if they could afford to—faced antagonistic audiences. New iterations of the specific style that emerged from this time period reference a disparity between ideal and real: Ideally, American styles were carefree, but in Russia, they were associated with pornography and prostitution. A tight, red, thigh high stiletto boot worn under a one-size-fits-all dress easily captures this contradiction of American culture feeling dangerously ostentatious in the context of 1991 Russia.
For it is the marriage of a sexy red boot with a sack of a garment that propels the trend seen during F/W '17. It's not quite as simple as dress-equals-Communism, boot-equals-Capitalism—the best fashion isn't that easy. Instead it works in the '90s fascination with the ugly and the beautiful, or the Baba Yaga and the sexy spy Natasha. A sort of undercutting of frumpiness and androgynous Party dressing, this is a styling choice more than it is a direction for the clothing we will later see in stores. (Styling, even more so than separates, conveys a collection's coherent message, if it has one.)
This use of the red boot has the hand of Lotta Volkova all over it (besides Balenciaga and Vetements, she also styles collections that have shown iterations of the trend this season: Mulberry, Emilio Pucci—where jersey sacks were worn with red heels and matching opaque stockings—and Kenzo), and so it's not a far leap to see the red of a communist flag against the grey scale of Eastern Bloc fatigues or the repurposed drapes of Cold War-hit homes in these looks. The choice is especially provocative at a time when Russia is constantly on the front page of the Washington Post. The boots are as smooth and tall as the Red Army's, and as strangely sexy as jeans were when they were first worn by women.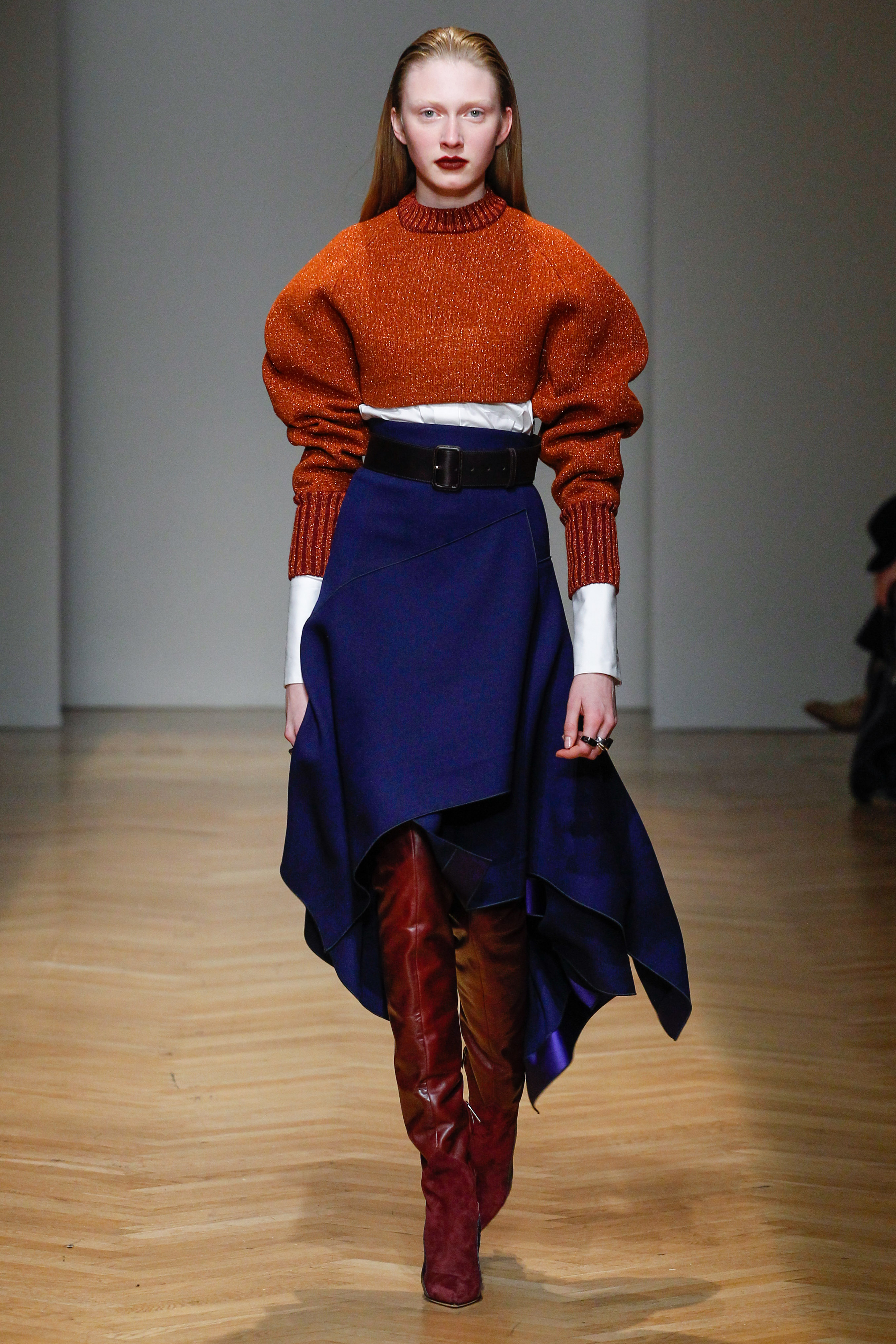 This is fashion at its best, and its most frightening—a fashion that mines the past to predict the future. Before we could witness the collusion of the White House with the Kremlin, we were eerily reminded of Russia's integration with globalized markets by way of retro styling. (American shoppers' recent interest in '90s Russia could be viewed as a red flag, so to speak.) Whereas hipsters in the Soviet Union, called "stilyagi," were criticized for wearing flashy American clothing that contradicted Communist ideals, our current interest in a post-Communist aesthetic is rebellious in a different way, layered as it is in nostalgia. Perhaps it reflects the hopeless reverie and indignant malaise of millennials.
Which is why fashion is lately being pushed to self-consciously combat mass political ambivalence. There has likely never been a fashion month so scolded for ignoring the political present than February 2017, the month that directly followed the inauguration of Donald Trump and preceded the UK's exit from the European Union. Journalists called on fashion houses to use their platforms to raise awareness, or, in the cases of more youthful brands that typically work in themes of activism, to provide answers. Industry watchdogs weren't particularly hopeful. At Vogue Runway, Sally Singer writes,
I think I was not alone in hoping for style to have a more extraordinary response to the rather extraordinary times we now (sadly) live in. Buttons, slogans, and message tees are fine—they make pictures that are seen globally and register resistance—but they are not enough…One trend that I think will continue through Europe but I find peculiar in the extreme is the return of trouser suits that nod to Wall Street and 'mean business'…I couldn't help think how odd it is that that sort of tailoring would return just as the public's confidence in bankers and all implied associations has never been lower. Who is actually meant to wear all this suiting?
One answer? The businesspeople who can afford luxury shopping—and who will benefit from Trump's presidency. In fact, many shows seemed to quietly celebrate a political shift that favors industry over the causes that generally impinge on mass production, like environmentalism.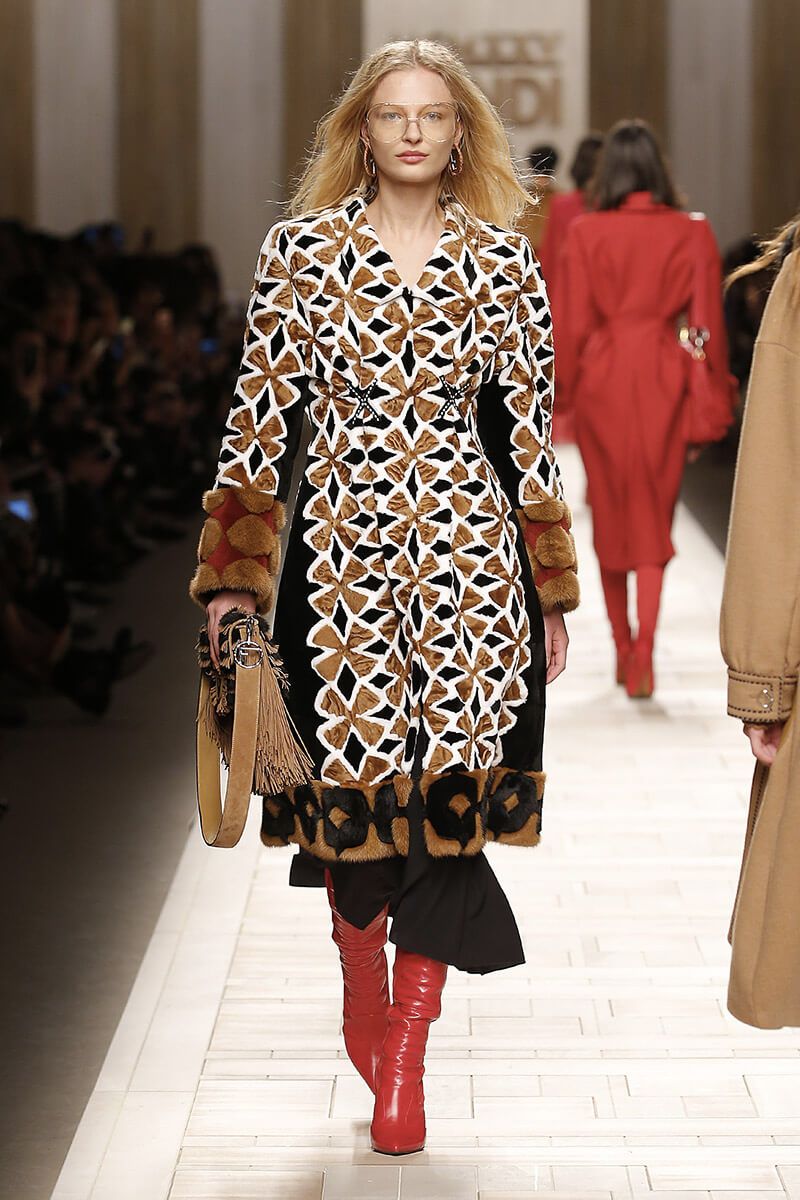 In the same article, Maya Singer responds,
The semiotics of this trend worry me. Best-case scenario, designers are suggesting that we don the most useful disguise available, the better to infiltrate the power structure and enact subversions. But in a season where there was a lot of punting going on, I'm more inclined to believe this was an homage to the power structure itself.
Next, Chioma Nnadi criticizes Kanye West's collection for its Calabasas-centric "slogan tee for the 1 percent"—two months after West took a meeting with Trump. But many missteps are forgiven, or even applauded. As Nnadi later notes, the new collective Section 8 made an "encouraging" debut. "It was, they said, how they imagined an intern working on the Trump campaign might dress." Oh.
Reviews of London, Milan, and Paris sound desperate for optimism, crediting certain collections with "irreverence" in the face of impending fascism and with making nods to "process" that apparently remind a consumer that "these things are made." Brands popped buttons in press notes, scrambling to align themselves with social justice causes, while others, like Dolce & Gabbana (who often dress Melania Trump) celebrated an excessive style that once seemed tongue-in-cheek. Their runway show featured dozens of "influencers," mostly the children and wives of famous people (like Steve Harvey, who also met with the president at Trump Tower). The clothing, as usual, looked like it belonged in the home of a Russian oligarch. Vogue Runway editors call the show "inclusive" and "moving."
It's high time we admit that the fashion world can't solve political problems, and that fashion shows are up there with the worst places for social justice messaging. They're much better at reflecting moves made behind the scenes of big business. As the designer for Prada and Miu Miu, Miuccia Prada—herself a communist activist in '70s Italy—has said, "To be an opinionist as a rich fashion designer, I think is the worst possible thing to be." (A pair of knee-high red boots were paired with a baggy dress in Prada F/W '14, Prada F/W '17, and Miu Miu F/W '17 runway shows, by the way.)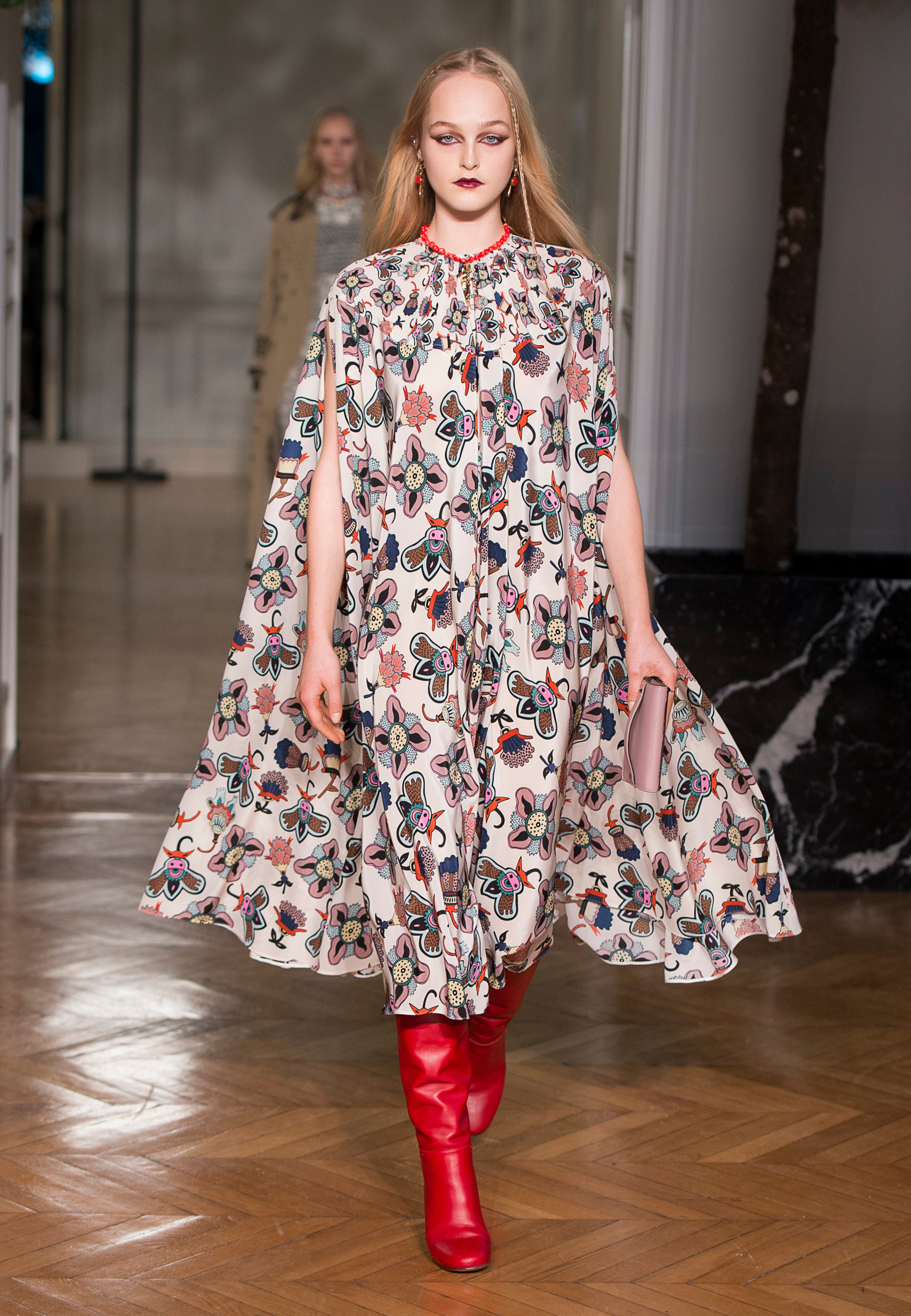 This is fashion we're talking about, after all. No matter how many American designers said, last year, that they would not dress Melania in protest of her husband's bigotry, many others said they would be delighted to see America's First Lady in their couture gowns. And no matter how many stores said they were pulling Ivanka Trump's China-made knockoffs from their racks (diplomatically citing "poor sales" and leaving the cause of sudden plummets for the shoppers to surmise), many others said they would proudly continue to stock them.
Each move was a PR one. While Ralph Lauren opted to vie for the most mentions via a credit for Melania's inauguration outfit, Marc Jacobs—not a likely choice for this type of event, anyway—used the very question of designing for the first family to publicly announce his rejection of affiliation with social injustice. The timing was political. Within days he showed his latest collection, influenced by hip-hop and titled, "Respect." (Surely he hopes we've all forgotten the ire he provoked with a comment he made on social media last year defending his white models wearing dreadlocks by comparing them to black girls who straighten their hair.)
In fact, for F/W '17, many designers commented on the state of things via branding, while others seemed to make statements about the absurdity of statement-making, as fashion people. Calvin Klein and Vaquera made attempts at injecting one solid idea with another more culturally thematic one—each wrapped exactly one sagging American flag around a model—and in so doing, directed attention to their own political impotence. Moves like this could have been a reaction to the pleas for gender equality Maria Grazia Chiuri designed into her first collection for Christian Dior last yeat: t-shirts with phrases like "We Should All Be Feminists" and "Dio(r)evolution" sprinkled over a parade of tulle skirts.
Prada's latest collection fuzzes up the memories she likely has of her activist past, rendering it ridiculous by putting that style up for sale: Corduroy flares and knit bras were worn with crystal-embroidered mohair sweaters and jeweled satin heels. Famed '70s paperback illustrator Robert McGinnis collaborated on the collection by painting Bond girl-like babes on dresses and skirts. The message here is one about fashion and femininity: within both concepts, the past is in the past, and yet it haunts the future. How effective could those radical styles have been back then, Prada asks, if we're where we are today?
But most fashion shows are a far cry from harnessing cynicism so adeptly. Some, like Versace, scrawled hopeful buzzwords on clothing ("Equality," "Loyalty, "Courage," "Love," "Power") alongside the brand's own blown up name, which could have rang inspirational in the context of Fashion Month but now reads simply as some throwback to Spice Girls-era pop messaging. Max Mara and Yeezy each cast Muslim model of the moment Halima Aden, a Somali refugee, and dressed her in a hijab for their shows. As Vogue noted, Aden's popularity is touching at a time when Trump has made many Americans feel nervous about wearing religious garb.
It should be noted that the recent adoration from designers could be influenced, too, by the quickly growing percentage of Muslim shoppers in the widely suffering international luxury market. Jeremy Scott's latest for the Moschino line tried to confront fashion's aversion to environmentalist efforts by creating trash-themed clothes—with no recycled materials. To add insult to injury, the ideas were derived from renegade up-cycler Martin Margiela. ("Jeremy Scott for president!" writes Vogue Runway's Nicole Phelps.)
Missoni included pink "pussy" hats in the final walk of its fashion show, and placed free samples on the seats of attendees. The move at least felt organic, since the hats are made in Missoni's signature zigzag knit. (Phelps: "feel-good moment of the week.") Still, those freebies are branded, high-end versions of homegrown beanies originally meant to inspire solidarity across cultural divides, like wealth disparity.
No one at Vogue Runway seemed alarmed by Gucci's white-laced red combat boots that feature hammer-and-sickle insignias, the Cyrillic text in Heron Preston's (also hypocritically trash-themed) first collection, or the scissor-and-thread hammer-and-sickle on a new Stella Jean sweatshirt. Public School's red "Make America New York" baseball caps were glowingly reviewed, yet telling one apart from a "Make America Great Again" cap is impossible from a distance—and isn't it the point of those original caps to identify a Trump supporter from far range?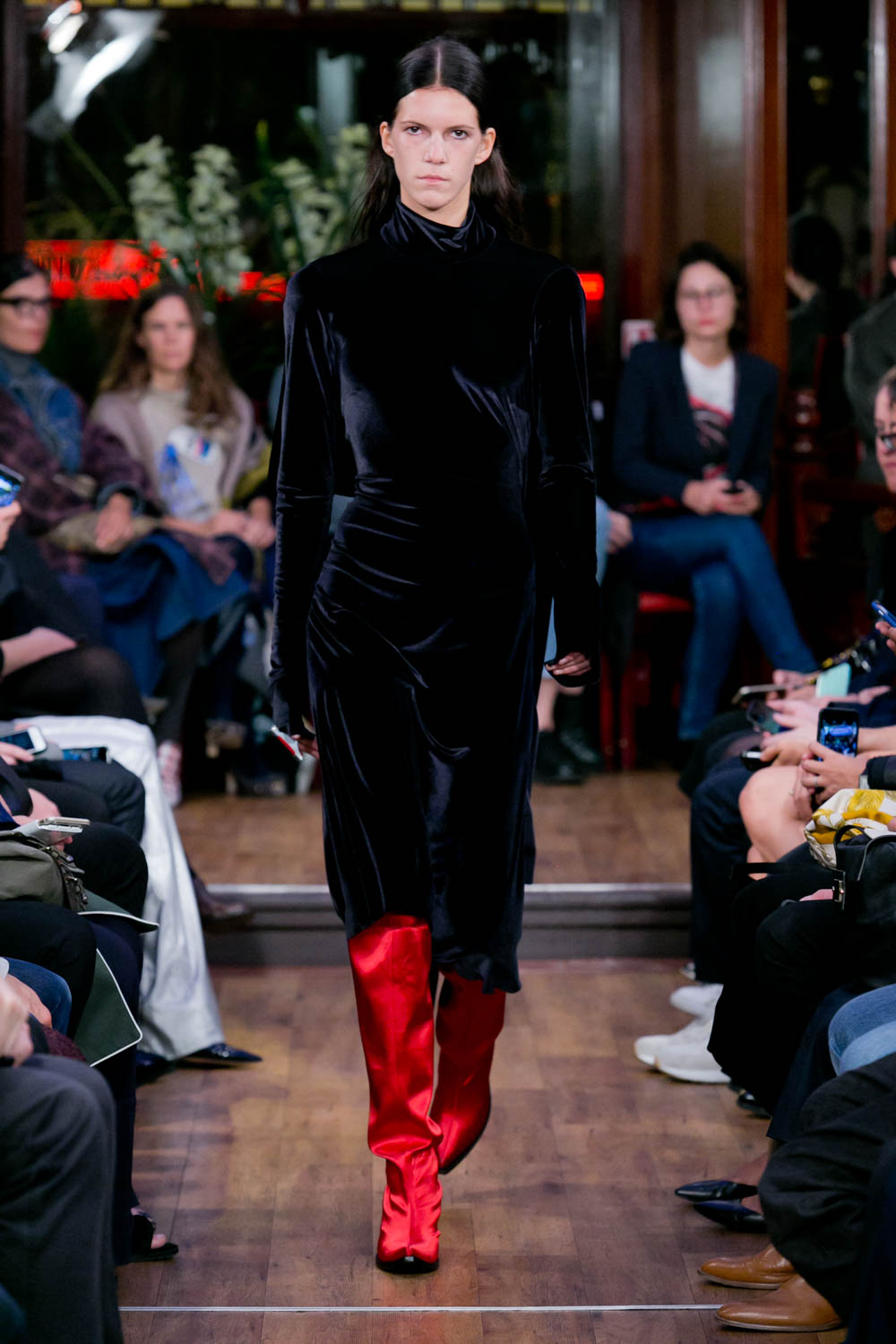 Either way, these accessories, along with the men's F/W '17 branded Balenciaga items in Bernie Sanders campaign font are all pastiche, part of a dressed-up scrapbook page of this era. They each take a theme seen in the streets and appropriate its design elements for another clientele altogether—the luxury market. Looking for activism on the runways is, in some ways, like being led by a red herring. Better, I think, to look for the trends that trickle down unselfconsciously.
It was Gvasalia and Volkova (both born in 1984) who first planted the red boot at Vetements in S/S '16, clearly styled as to evoke their experience of East meeting West in 1991. For F/W '17, they let Balenciaga linger on that idea, but at Vetements, they'd moved on. Every look in the new collection is an unsubtle interpretation of an uncomfortable European archetype, modeled by people of all ages.
Here was the commuting businessman, the struggling professor, the United Nations soldier, the policewoman, the rich old socialite, the black bouncer, the moped-riding university student, the midlife tourist, the sleazy broker, the homeless man, the pageant queen, the cowboy tycoon, the kinky secretary, the punk, the goth, the emo, the skinhead, the gabber, the club kid, the metalhead, the mail order bride, and even the Vetements fan. It was like the cheesy porno movie version of Russia—exactly the types of people we Westerners have been taught to think less of—on one of the hottest catwalks in the world.
The slick red boots—still everywhere else—were gone. The one model in a dowdy floral print sheath wore it over worn-out black booties and pants, under a hoodie cinched with a scarf. A mismatched track jacket was tied around her waist as if part of a discreet getaway. Just behind her, a grey-haired woman was piled with synthetic skirts and overcoats, her purse strapped cross-body under the layers of cover-ups like she was afraid to lose it. There were no red flags here, only direct allusions to the displaced.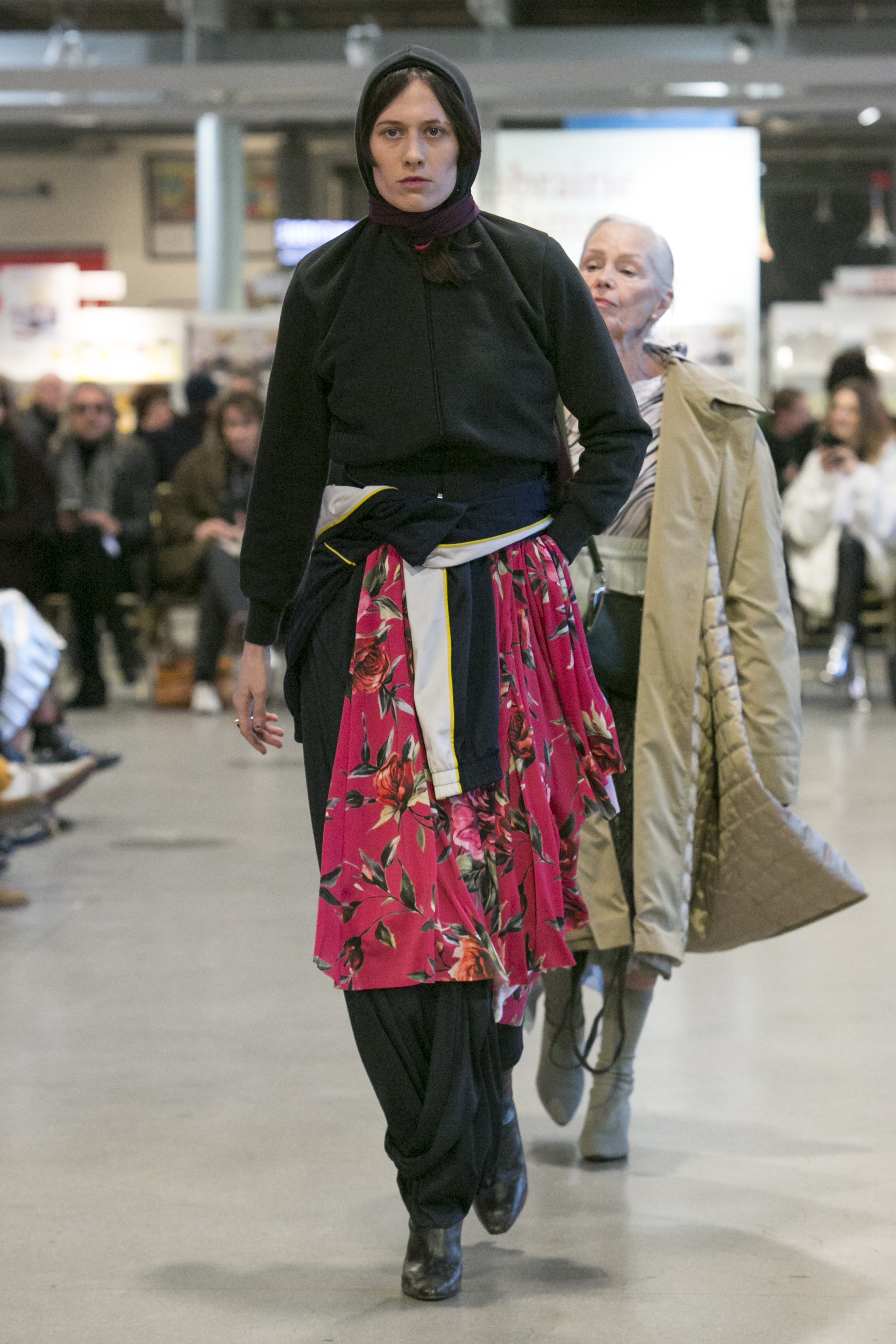 When the Vetements craze started a few years ago, the backlash was mostly incredulity—these were exactly the clothes of the lower class in Eastern Europe, modeled by street-cast Eastern Europeans, said critics. They complained that the brand identity lacked imagination. In spite of this response, with the latest collection, Vetements' designs are a step closer to their references, not further away. Based in Paris, Gvasalia and Volkova are surrounded by political change that likely feels all too familiar.
Intentionally or not, the danger of taking one's independence for granted was warned of in almost every runway collection for F/W '17, while the source of the trend is not in Oz anymore. The street-cast models at Vetements have already clicked their red heels, and landed back in brutalist black-and-white, sorry they'd ever wished for a better life. While the rest of us are caught up in a sea of colorful buttons, slogans, and pussy hats, a parade of Russian archetypes in Paris says, This is not a fairy tale. This is real life.