Digital Desire Lines
June 4, 2018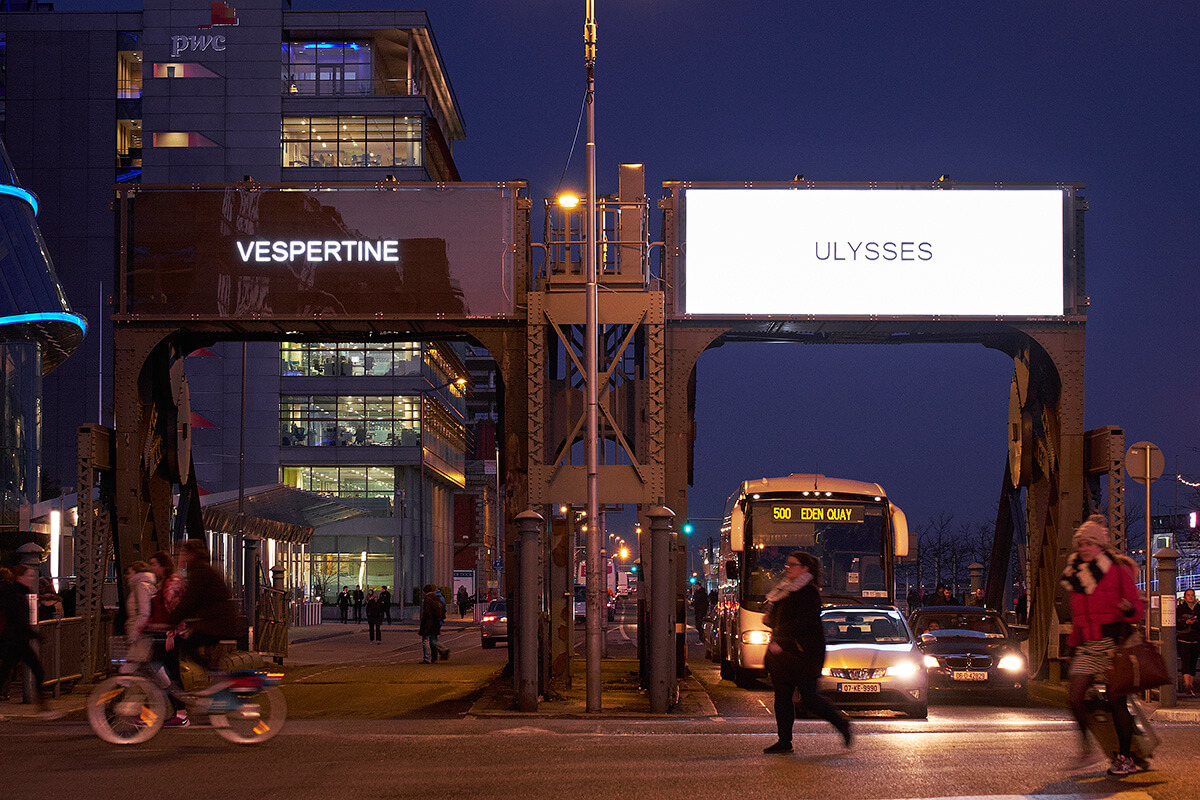 I walk everywhere in Dublin. I walk in cities that are friendly to walking—cities that tell their histories through architecture piled on decade by decade, cities in which different populations live cheek by jowl, cities that don't privilege cars—and Dublin is a walking-friendly city. In The Practice of Everyday Life, Michel de Certeau wrote that pedestrians have "an elementary form of this experience of the city; they are walkers, Wandersmänner, whose bodies follow the thicks and thins of an urban 'text' they write without being able to read it."
There's no need to mention the fact that Dublin's most famous author wrote a book based on two men's trajectories across the city over the course of one day, but—far from shying away from what has become the hub of a massive tourist industry—Dubliners are always mentioning it to me, whenever we pass Sweny's Pharmacy where Leopold Bloom bought lemon soap, or the building on Usher's Quay that was the site of the house in "The Dead."
I'm walking to meet Jessica Foley in the resolutely WiFi-free cafe of a central Dublin traditional-media hub: a bookshop. It is less than a mile's walk to Books Upstairs from Silicon Dock, the city's shiny new tech heartland that looks out hopefully from the old port—skipping over Brexit-beset Britain—toward Europe, and hosts the Euro headquarters of Google, Facebook, Twitter, and LinkedIn.
If Books Upstairs privileges the locally social over social media, I'm here because of a local social network. Foley is a friend of a friend, the publisher of a Dublin-based art mag I've written for. She is a professional creator of networks, as writer-in-residence at the Orthogonal Methods Group, a body of artists and non-engineering researchers based at Trinity College Dublin. OMG is itself part of CONNECT, a "center for future networks and communications" founded in 2015 by Professor of Engineering and the Arts Linda Doyle, former Director of CONNECT and current Dean of Research at Trinity College. Doyle has brought artists and creatives to work with STEM staff and students in order to encourage them to experiment with a wider range of models of thinking from the start of their careers.
CONNECT, Foley tells me, is beginning to work in a similar way with its industry partners—which include some of Dublin's biggest—IBM, Intel, and Google. What might the tech giants desire from this connection? Nothing that has yet been put into words. Would one of the companies be willing to email me to say something about…well… any hopes they have for such a partnership? "I'll ask," says Foley.
CONNECT is not the only art/tech/academic partnership in Dublin to have been founded in recent years. There's also Parity Studios, run since 2012 by Emer O'Boyle, at University College Dublin. Based in the university's physics department, it offers year-long residencies to professional artists developing collaborative projects. And, just outside Dublin, Maynooth University's Programmable City, is "investigating the relationship between networked digital technologies and infrastructures and urban management and governance and city life."
Why is big tech moving to Dublin? There are easy answers: Ireland has a low corporate tax rate of 12.5%, and the country's lenient work-visa process has encouraged the influx of a mobile, young, tech-savvy population. Dublin has the physical infrastructure needed by the virtual world, or is willing to provide it. With the boom of the 2000s that bust so dramatically in 2008, the physical landscape of Dublin has changed radically since the early 1990s when David Jazay photographed the city "Before the Tiger" in hyperreal detail, riffing on the quote attributed to Joyce—that "if the city one day suddenly disappears from the earth it could be reconstructed" from his novel. Ulysses, written largely from Trieste where, like so many contemporary early-career writers, Joyce taught English as a foreign language, could itself be said to be a reconstructive mapping.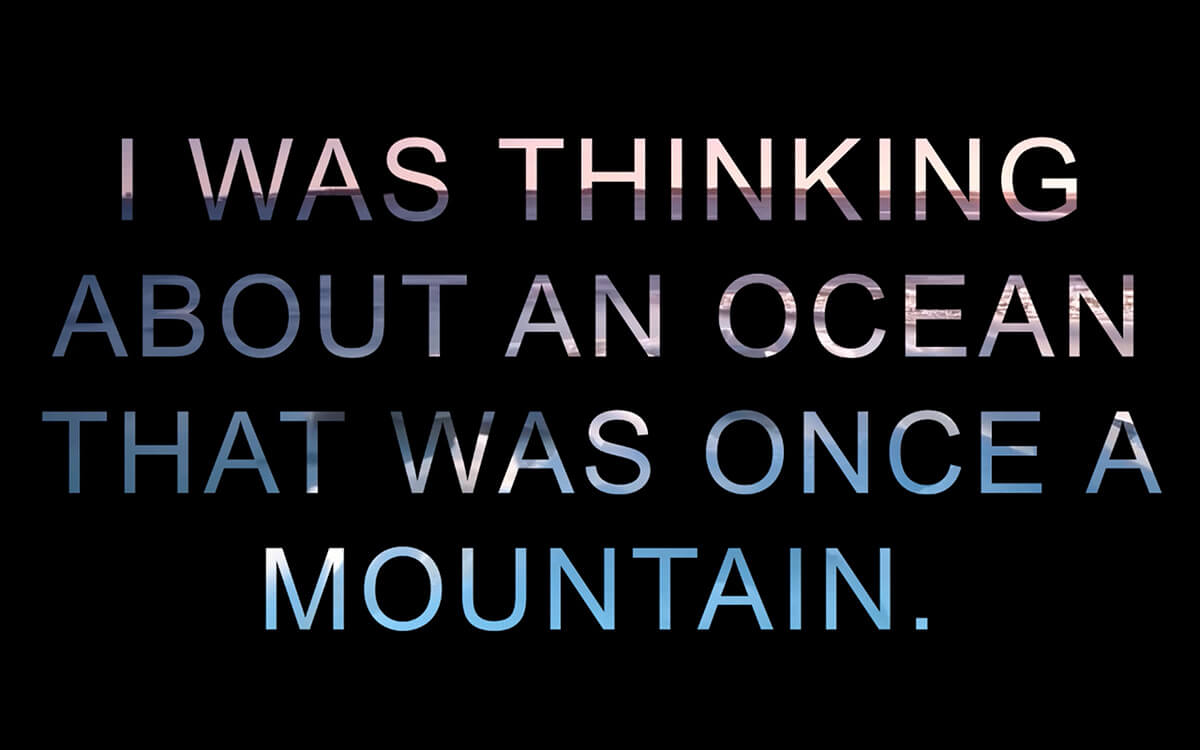 A decade after the crash and Dublin is booming again. The city has become a building site, thanks to the Docklands Strategic Development Zone Planning Scheme, which gives council planners the power to make decisions that cannot be appealed to An Bord Pleanála, the body that rules on appeals from planning decisions made by Irish local councils. The fabric of the city and its ways of life are changing: its transport structure has been improved with two new tram lines, and there is a proposed underground link to the airport, but this has been paralleled by an increase in hostile architecture to prevent rough sleeping, as well as the securitization of private city spaces.
Why is tech partnering with art in Dublin? is a less easy question to untangle. Foley is skeptical: "Why is it happening here? seems like a redundant question. We're living in complex networked societies... It's not the ideal of a particular nation that makes these large multinational corporations move per se, it's a lot of things converging that relate to economics and how state revenues function, legal frameworks, constitutions, politics and power, as well as social and cultural norms."
These networked relations between art and tech companies are not without tensions: studio and housing rents have been driven up by the presence of digital giants in the "smart district." Nevertheless, by the standards I've grown used to in the UK, creative freelancers receive generous local support in the form of tax breaks and, since July 2017, a pilot extension of Ireland's Jobseekers' Allowance, designed to give support to unwaged artists and writers taking a chance on developing their next work.
At the other end of town from Silicon Dock, still less than an hour's walk away along the Liffey, IMMA (the Irish Museum of Modern Art) is showing two substantial digital exhibits. IMMA's Digital_self reflects the online dislocation of borders between networked and earthbound subjectivities. It showcases a decidedly international, young, and playful selection of artists, with many, including Amalia Ulman, Molly Soda, and Jayson Musson, working via internet personas. Similarly, Irish artist Jonathan Mayhew's "Different Thoughts Various Evenings" riffs on the play of surfaces acquired via the interface of the web—collaging a series of thoughts, sounds and images that only appear to present a personal narrative.
IMMA's second digitally focused show, Coast-lines—a "12-month program of changing displays of artworks and archival material that will explore our sense of place, perception, representation and memory"—is exactly about the geographical and political lines that have been drawn across, and round the country, via digital and analog data. The network of digital art in Dublin still spans a small enough physical footprint to ensure a network of connections, so it's no surprise to see OMG involved again here, presenting a work based on 1967 editions of US art magazine Aspen, edited by Brian O'Doherty.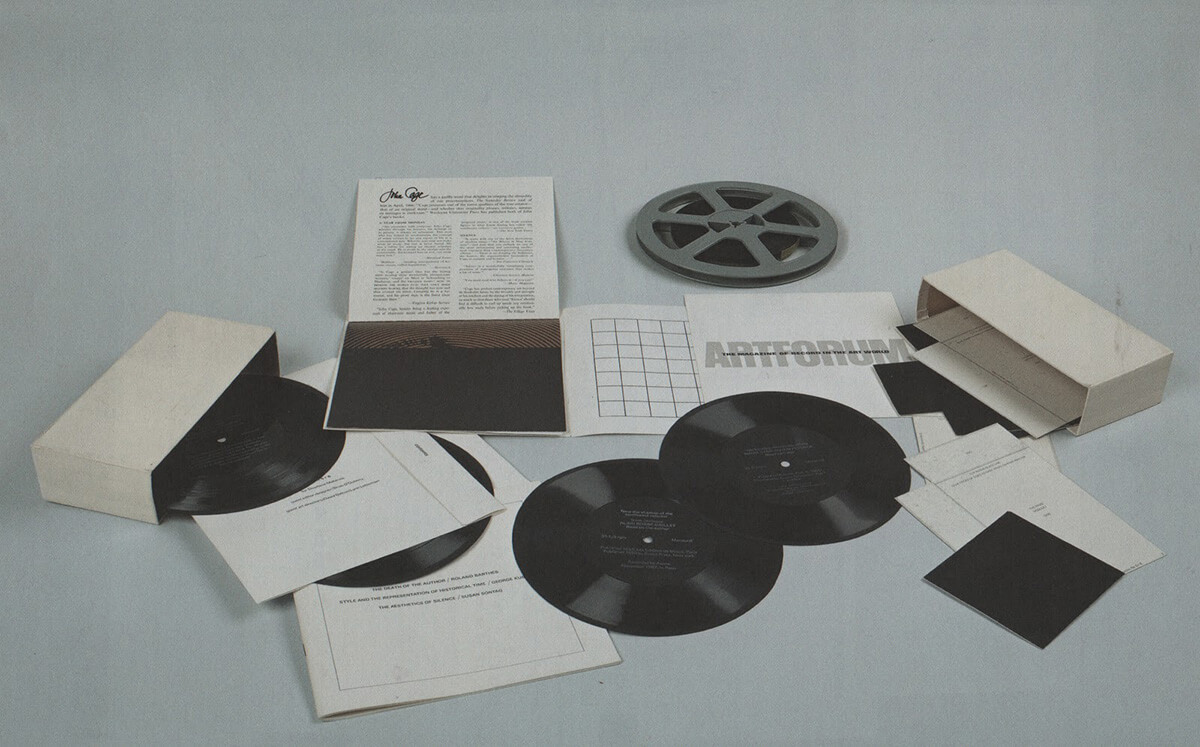 Reacting to Aspen's unbound-book-in-a-box format, they have produced a vlog-style unboxing piece in which Aspen and OMG can be "read" in the context of each other. OMG's Placement as Language replaces Aspen's original communication platform with a contemporary one, turning the contents of the book-box into the Twitter feed @aspen_ordered, which tweets the essays in a linear fashion, and @aspen_reordered, which uses a Markov chain algorithm to create new variations on the original texts.
*
Looking to technologies of the past makes sense to artist Caroline Campbell, who sees a long-term time lag in art's use of tech: "Historically, tech has not been seen as cool in the art world until it became ubiquitous outside it. As soon as it becomes obsolescent it is fetishized and used by artists." Campbell has been investigating the materiality of the city via the materiality of technology for years. Key to this direction is the aesthetic produced by the varying camera quality of her drone project Loitering Theatre.
Way back in 2012, when drones were new, and airspace open, Campbell and her working partner Nina McGowan flew cameras over the Irish president's official residence, Mountjoy Prison, and the Google headquarters, among other places. "[The drones] had their own ghosts in their vision and they'd go off and do their own thing," says Campbell. This was a Dublin Science Gallery commission, but some of the footage was censored during its exhibition—interestingly, not the footage showing the digital sites, but the seats of political power.
Campbell is aware of the double-edged nature of the surveillance technologies she uses. I visit her at home (again only half an hour's walk from IMMA, another half-hour from Silicon Dock). Her Mac is one of the last models produced where the mic can be disabled. Naturally its camera is taped over. She uses apps that encrypt or erase her data, and sometimes prefers to talk with phones left at the door. She is currently engaged in a project to record the physical gestures of protest of prominent Irish feminists: "I'm going to film myself motion-capturing their gestures of protest in order to create a data set for the future of radical physical protest.
Campbell's project marries tech both to the body and the landscape: "I'm using the technology as a gesture in itself and may not do anything with the mocap data except store it for imagined future generations who have become so embedded in the network/part of the singularity that they cannot imagine how to throw a stone. We might draw up a set of rules for its use. We might imagine its future user. We might decide to bury the data in the Wicklow hills. Or, more routinely, embed it in the blockchain."
Though more sanguine about the benign potential of tech, Jessica Foley is also mindful of the uses to which her work might be put. She notes that the university scientists and engineers she works with have implicitly been taught to "think about invention without responsibility," and that creative input can bring this into play. The orthoganality in OMG, she says, refers to thinking at right angles, but also to thinking upstandingly.
While Foley believes creative thinking is synonymous with teaching companies to think beyond instant-profit goals, she wonders what will happen if companies integrate this flexible style. She's also aware of her stance as an artist funded by public money as well as that of industry, wary of falling into a perpetual doublethink in the name of grant applications: "How can we ask for what we want to do? Will they fund us?"
Facebook and Google are two of the companies currently funding Dublin-based artists in residence. The work produced is usually not digital, as though the companies want to authenticate or embed themselves via material and locational practices, just as some of the city locations have extended their conceptual existence through digital art. Foley mentions the artist Cliona Harmey, who partnered with Dublin Port Company and Dublin City Counåcil to create Dublin Ships. The work, which ran throughout 2015, projected the names of the port's most recently arrived and departed ships on large LED screens adjacent to Samuel Beckett Bridge. Playing on Dublin's status as a key node in international networks, the project changed the way the port integrated itself within the city.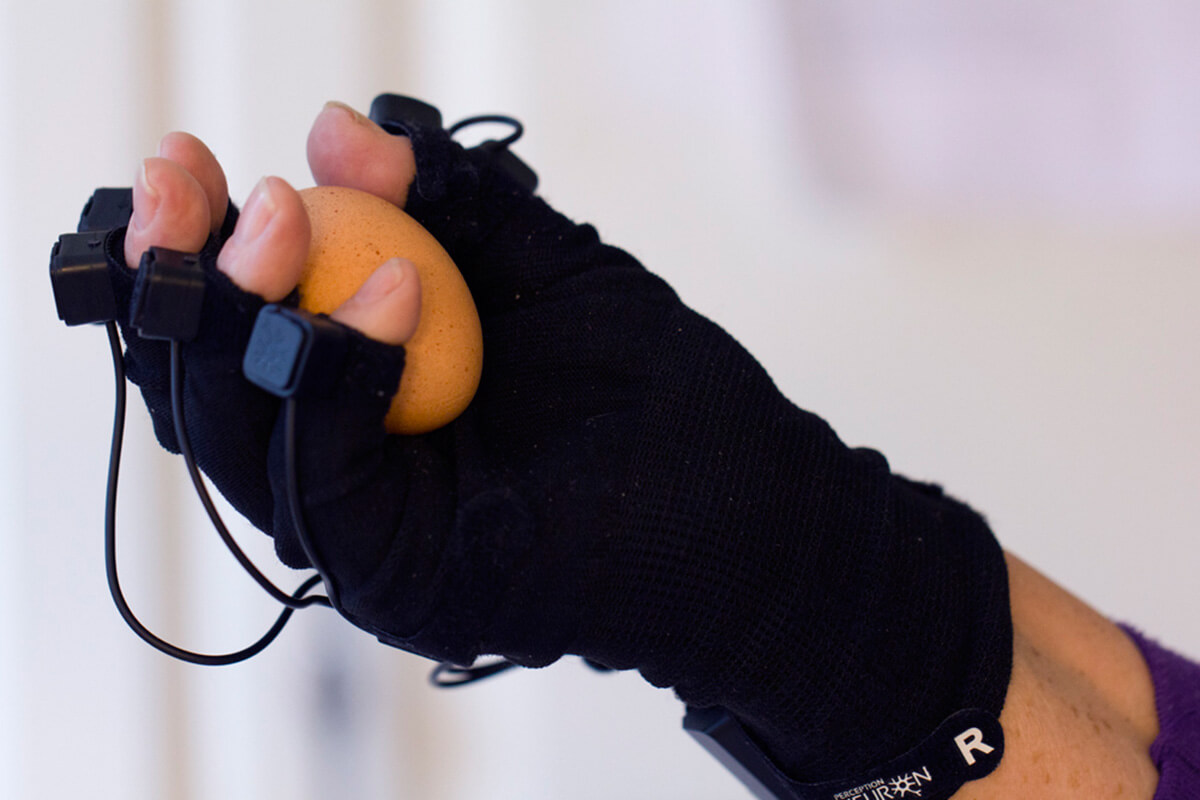 For Campbell, the response of big tech's resident artists is not critical enough. She worries about the speed with which "capitalism repackages any critique of itself," and asks herself what lies outside capitalism? Her answer: "Affect (emotion) and non-hierarchical spiritual belief."
Working from a deep interest in Tibetan Buddhism, Campbell's piece (again with McGowan) "A Guided Meditation on the Machines" (2014) riffs on Google's Wisdom 2.0 initiative, which promised how to "create real happiness at work" through "mindful living and working." The artists' response brings the digital giant's co-optation of meditation techniques down to earth, re-contextualizing it via the Dublin landscape.
Filmed from white couches on the roof garden on top of Dublin's smart Marker Hotel, the camera pans across a skyline of the buildings the artists' drones couldn't enter: both the glass and steel of Facebook and Google's Headquarters, and the red brick and white stone of courthouses, parliaments, and churches, creating a map of two kinds of incoming authority that have dominated the city's landscape at the beginning of two successive centuries. "Welcome to the new age village of quartz," intones actor Niamh McCann, "of making something out of nothing." She invites us to "Place your body within the city."
The relationship growing between art and tech industries in Dublin via CONNECT remains open and, according to Foley, largely "under-imagined." She considers that this may be the essence of the connection—that the corporate tech industry is coming up against the limits of its own imagination and are beginning to ask why? "In the face of advancing technological capabilities and technical knowledges, both academia and industry are becoming aware of a gap between what's possible technologically and what's ethically applicable socially, economically and politically. I think that many artists, engineers, and technologists are increasingly gravitating towards processes that can help us to understand and mediate this gap."
She quotes H. G. Wells, who in a 1932 radio broadcast noticed that although there were thousands of professors of history in the world, there was not a single professor of foresight. OMG aims at something, Foley says, "presence-based and project-led. These practices demand time, and industry is time-poor. These are early days and it's difficult to say what the impact will be, for either group." Still it is "changing people's relationship with the way they think about their work, a subtle and ongoing practice. This is ground-up. It's about how the connections are made and who makes them." She admits, "I don't know of anywhere else this is happening in this way."
*
"What distinguishes the map from the tracing is that it is entirely oriented toward an experimentation in contact with the real," wrote Deleuze and Guattari in A Thousand Plateaus. "The map does not reproduce an unconscious closed in upon itself; it constructs the unconscious."
Art and tech are collaboratively mapping the future of Dublin via networks of practice, and the map is less goal-focused than a mood, a process: something produced by the friction of the city's hopeful energy with the drag of brick and mortar. It lies in the vibration of the molecules in the air between the static iron bridges and the flow of the Liffey. I crisscross the city drawing my own map. I feel the bump of desire lines I've already laid down as I meet them.
"I'm obsessed," Campbell says, "that Google is here, that all the world's questions are flowing through Dublin."