Episodic Buffer
September 25, 2017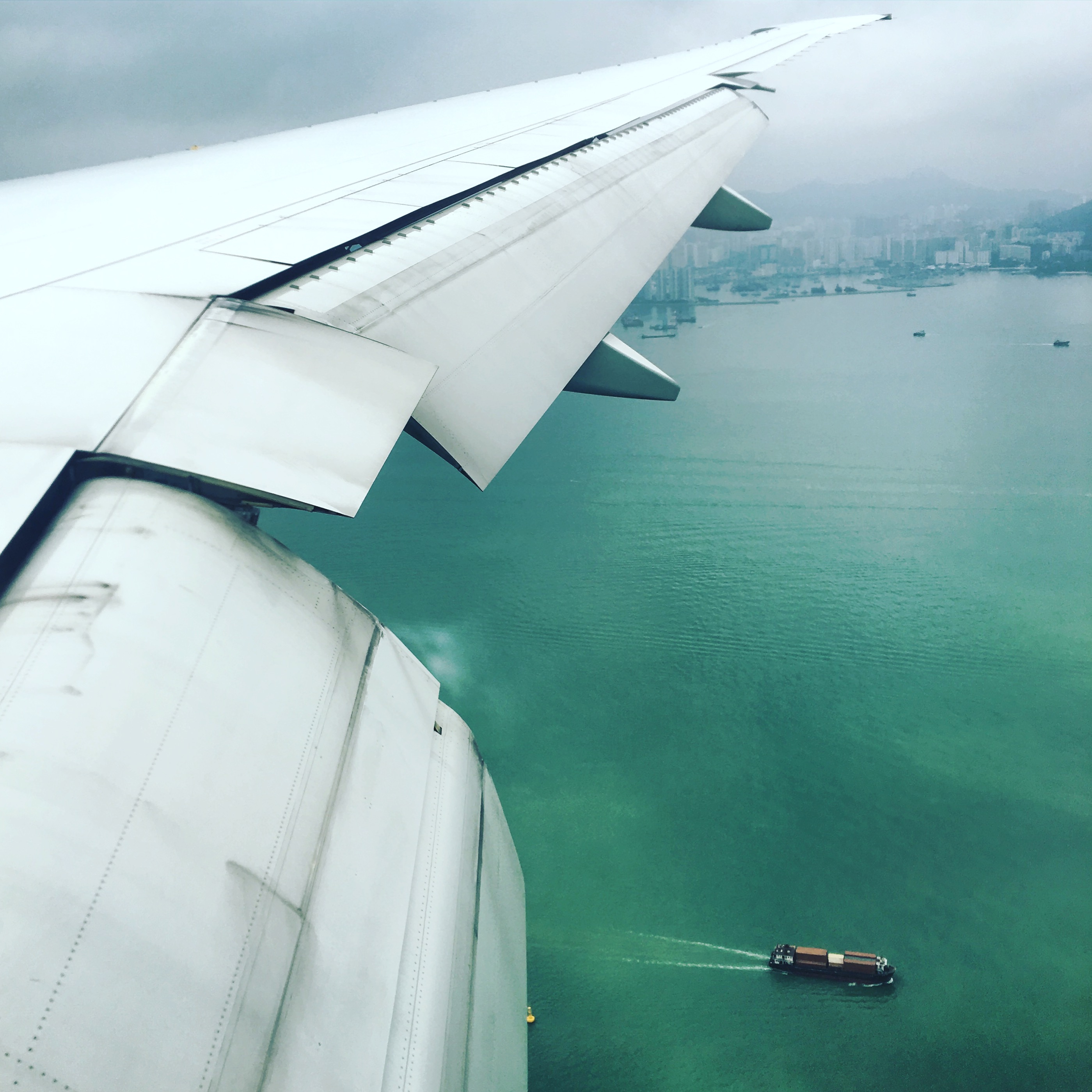 In the leading model of memory used by cognitive scientists, there's something called the "episodic buffer." It was added in the year 2000 to explain a gap between the "phonological loop" and the "visuospatial sketchpad." It is said to "link visual, auditory, and sensory information for a brief period of time," until it is needed by the Central Executive memory. At its best, maybe art can serve as a form of "episodic buffer" for a community or a culture. So can protest.
On the evening of June 30, 2017, I was in Los Angeles, but wished I was in Hong Kong, where it was already the next day. I scrolled through Instagram and Twitter and Facebook, for a moment tuning out the endless horror show of my own country, and noting only the posts from Hong Kong friends, journalists, and artists who were or deliberately were not celebrating the July 1st national holiday.
This year it marked 20 years since Hong Kong's "handover" back to China. I Whatsapped and WeChatted with a few friends, who confirmed what they had been telling me all along, and why I didn't end up making the trip to be there. That it was stormy and humid, that protesters were being kept away from the parade route, that nobody cared about the anniversary anyway. That it was an anticlimax. "Don't worry," a friend texted. "You aren't missing anything."

But when it comes to Hong Kong, I miss everything.
*
For the tenth anniversary on July 1, 2007, I was in Victoria Park under a hot, overcast sky. I had already been living in Hong Kong for three years, and eagerly anticipated this historic landmark for my adopted home. It was filtered, like my whole Hong Kong experience, through the art community.

A gallery had organized a mobile show in which five Hong Kong and five Mainland artists created banners to be carried by friends of the gallery during the march. I was saddled with a massive banner that I held aloft on poles with a Chinese-Canadian curator friend to march down Hennessy Road, alongside protesters of every stripe: sex workers advocating for better protection, environmentalists, Falun Gong.

I already had observed other mass demonstrations in Hong Kong, like the annual June 4th vigil held to commemorate the Tiananmen Square "incident", and I had learned that there were deep ties between the city's art and its activism. But it was a strange new perspective to be smack in the middle of it, walking where normally cars raced on the temporarily-blocked-off streets of the march route. We walked farther than I ever had in Hong Kong before—past the shopping malls of Causeway Bay, under the M.C. Escher-like skybridges connecting business towers in Admiralty, all the way to Central.
That night, I stood with artists and friends on the 20th-floor rooftop of my flat in Causeway Bay, watching the fireworks bursting pink, orange, teal above Victoria Harbor. We saw the pyrotechnic feat we had heard rumors about earlier, but assumed was impossible. Flames suddenly outlined the words for "Chinese people," but in the Mainland's simplified, not Hong Kong's traditional, characters.
The rest was, as I wrote for a French magazine at the time: "more puffs of light and color, more booms and crackles. A ghostly echo of the foreign cannon-fire across the harbor, on another dark night, that would have started this whole process in motion. And then just gray clouds against the black, and an anti-climactic silence."
*
In the spring of 2003, I landed at Chek Lap Kok airport for the first time. I was traveling with seven fellow Yale students and one faculty advisor as part of an exchange symposium with the Chinese University of Hong Kong. Dazed, we stumbled off the 17-hour red-eye into the gleaming terminal, happy to have made it but our bodies feeling flat, like cotton threaded with caffeine. We were loaded onto a bus that wound through the industrial and tropical mountains on the way to the university. For all the Hong Kong cinema and pop culture I had absorbed over the years, nothing had prepared me for how green it was, how the islands were so definitively islands.
We zoomed past the container ports of Kwai Tsing and the cemetery of Tsuen Wan and the hillsides covered with palm trees and dripping banyans. As good Hong Kongers, our student hosts had planned an eating itinerary that went past mere gluttony to verge on force-feeding. They were also planning to take us to HK's famed discount electronics markets. One of my classmates was a stocky Texan football player who was preoccupied with buying new accessories for his digital camera, like larger-storage SD cards.

Right before the bus went into the Lion Rock tunnel, I remember him asking, "So, is memory cheap in Hong Kong?"
*
I recently spent about an hour searching online for the version of Xavier Cugat's "Perfidia" that appears in Wong Kar-wai's Days of Being Wild and 2046. The opening strings pose a keening question that will never be answered, even as they start a cascading decline to meet the ambling drums and fluttering xylophone. The rest of the song belies this plaintive urgency, with a mod sway, with sheer style, before fading away to leave those same high notes, hanging in the silence.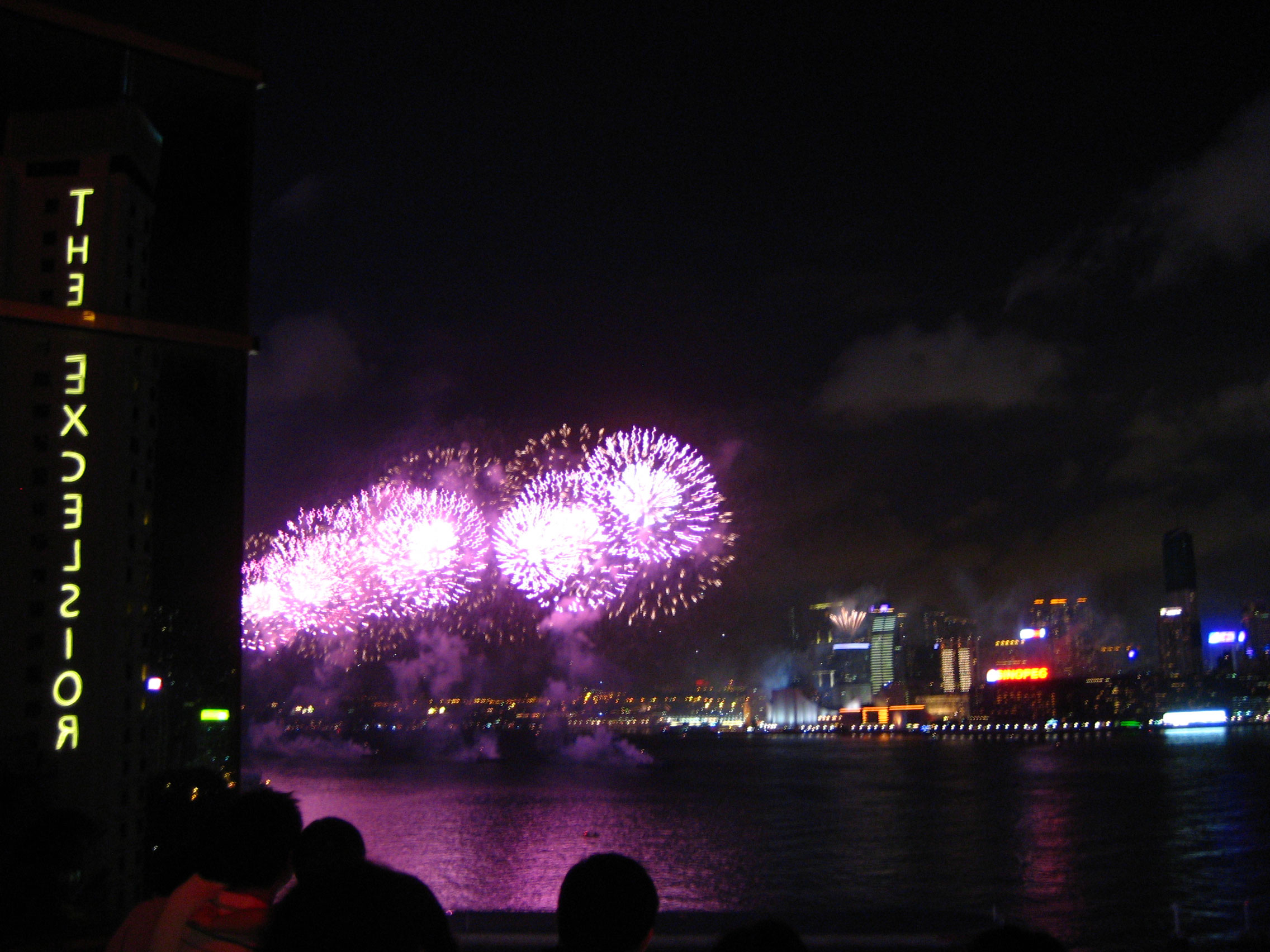 In Portuguese, perfidia means perfidious — untrustworthy, deceitful, faithless. Just like our memories. But just because memories can be flawed doesn't mean they're not real. Memories can also be erased, implanted, distorted, gaslighted and worse.
I was starting to think that maybe I imagined the version that appears in the films, but then I found it on YouTube.
*
Hong Kong is a city defined by nostalgia, and therefore has a peculiar relationship to time and memory. This has been a perennial theme in Hong Kong cinema, art, literature, and theory. It's something it has in common, to varying degrees, with other countries and cities with a colonial history.
But few other places experienced the same head-spinning trajectory—evolving from a fishing village (cliché but true, its colonial occupation functioned quite differently than in, say, Guangzhou), to a booming world city, to one that, instead of achieving eventual independence, was in 1984 given a deadline of 13 years, not to be autonomous, but to be "returned" to a different country. Whatever complexities of Hong Kong identity existed prior to that (and there were plenty—look to the waves of anti-colonial resistance and the 1967 leftist riots), this expiration date presented a slow-burning crisis that permeated all the coming years up until 1997.
Many of Wong Kar-wai's films deal with this, particularly 1994's Chungking Express, which follows the interweaving stories of two lovelorn policemen and other assorted characters, from the all-night snack bars of the Mid-Levels Escalator, to the labyrinth of Kowloon's Chungking Mansions across the harbor. One of them, Officer 223, obsessively buys canned pineapple with an expiration date of May 1, as it's the date by which he believes he'll either be reunited with the girlfriend who just dumped him, or have to move on forever. The expiration date on each can becomes a curse or a promise, held just at bay.
In the early '90s, many Hong Kong citizens who could afford it began immigrating to the UK, Canada, Australia, as a form of escape or at least insurance against the unknown of the handover on July 1, 1997. Many had visions of the People's Liberation Army rolling tanks into Central on that day, cracking down on all Hong Kong's freedoms, breaking the promises of the Joint Declaration and the notion that HK would be the beneficiary of a "one country, two systems" arrangement.
That didn't happen. On that day there were parades and champagne, and then the last British governor Chris Patten literally sailed off in a big ship from Victoria Harbor under fireworks. As Deng Xiaoping had earlier stated, and seemed to be bearing out, "The horses will keep on running… the dancing will continue."
One countdown clock had ended and now been reset for 2047, 50 years later, when Hong Kong would "fully" return to China. And most sighed with relief at what seemed now like an inevitability: in 50 years' time, China would be much more like Hong Kong than the other way around. Right?
A year later almost to the day, July 1998, in a darkened auditorium surrounded by an orange grove in Valencia, California, I would see Chungking Express for the first time. In the neon alleyways, the red taxis, the weird humor and of course Leung Chiu-Wai's soulful gaze, I felt an inevitability of my own. I made up my mind that I was going to live there someday. I wanted into that futuristic infrastructure of elevators, even if I didn't know where they were going.
*
A few days into that first trip in 2003, we were eating breakfast when our faculty advisor passed out photocopies of an article from that morning's South China Morning Post. "Mystery Virus Discovered at Prince of Wales Hospital," read the headline. The piece went on to detail this unknown respiratory illness that had surfaced at the teaching hospital attached to the university where we were staying.
A few days later, they gave the virus a name: Severe Acute Respiratory Syndrome. We started using communal serving chopsticks, instead of just plucking our food from the family-style plates on the lazy susans of restaurants. The shopping malls of Mongkok began to empty. The still-busy thoroughfares of Causeway Bay were rendered ominous by faces masked with white cotton. Eventually, we put on the masks we saw multiplying around us, and by the time we flew back to the States, we were told to wear them the entire flight. We were the last HKG-JFK flight to land before they started quarantining people.
I returned a year later to begin my life in Hong Kong.
*
My first two years in HK, I lived at the Chinese University of Hong Kong, teaching as a visiting tutor in the English department. Alongside three other fellows, we lived in the Friendship Lodge, faculty housing at the top of a hill overlooking the slate blue water of Tolo Harbor. We taught literature, creative writing, and American studies classes to English majors who were nearly our age, but seemed much younger to us then. Hong Kong college students spend their teenage years studying, so they usually don't have the same life experience or freedom that many American teenagers have. Even in the dorms, their parents were perhaps a maximum of 40 minutes away at any time. Most went home on weekends.
Many of the students in my classes were brilliant, writing stories about dark inner lives that struck a vivid contrast to the stuffed cartoon characters hanging off their backpacks and cellphones. But because they still seemed so young, and because they would loudly sigh when asked to write papers about "Hong Kong identity," I took for granted the received notion that Hong Kong's youth would never care a whit about politics.
*
It was during this time that I started exploring the city's art scene. Though Cantonese cinema had been my gateway drug to Hong Kong, by the time I arrived, it was in irreversible decline. In the 1990s, Hong Kong produced around 400 films per year, but this had dropped to around 50 a year by 2004. The art world, on the other hand, seemed a more dynamic space of possibility, and plucky, grass-roots independence.
I began meeting art students and scholars through the university and visiting art spaces whose addresses would soon become fluid even to my beginner's Cantonese tongue: 63 Ma Tau Kok Dou (Cattle Depot Artist's Village), 4 Po Yan Gai (Para/site). I started writing about art for a bunch of American magazines that don't exist anymore, and for the South China Morning Post (that thankfully does), trekking to exhibitions, pop-ups, performances and studios in places like the industrial port of Chai Wan, the sleepy island of Cheung Chau, a white-collar office building in Central (an artist's boss called in sick for the day, so he decided to hold a spur-of-the-moment secret art show in his cubicle). It was through these expeditions that I formed my internal map of Hong Kong, from the southern tip of Stanley peninsula to the northern reaches of the New Territories.
The New Territories are named quite literally, as they only became a part of the British Colony in 1947. Much of the geography is undeveloped—besides the clusters of "New Towns" (such as Sha Tin, near Chinese University) built in the 1960s and 1970s to accommodate HK's swelling population, the rest is still farmland and semi-wild "country parks." Because the New Territories were the first place I lived in Hong Kong, I became obsessed with the multiple meanings of its name, and its liminal character. As a borderland of a hybrid city, maybe the New Territories were the "Hong Kong of Hong Kong."
One winter day in 2005, I took the KCR to semi-rural Sheung Shui in the New Territories to see a one-day site-specific art happening held at an old soy sauce factory. The piece I remember best was by a young artist who had set up a little canvas booth on an elevated wooden platform at the edge of the soy sauce factory's land, facing north.
The sun had set as I climbed the rickety stairs and picked up the binoculars that were placed on a shelf. Through them, I peered at the horizon, wondering what I was supposed to see. The dark red pulse of a radio tower. The eerily autonomous motions of massive construction equipment. Headlights from cars racing down an expressway, grids of light as office-workers logged overtime deep into the night. Was there a specific landmark, a mountain or something, I was supposed to be looking at?
The artist had walked up to see what I thought of his piece. When I inquired what exactly was I supposed to be seeing, he just smiled and said: "You are looking at China."
*
In July of 2006, I moved with my boyfriend to Unit 414B of the Wah Luen Industrial Center in Fo Tan. Adrian was a sculptor born and raised in Chicago, but whose parents were from Hong Kong. Many people assumed I moved to Hong Kong because of him, but it was the other way around. I had already signed my fellowship acceptance papers when we met and fell in love back in New Haven, a funny coincidence that for a while felt like fate. He still had to finish his MFA but followed me afterwards, semi-squatting at the faculty apartment with me until the fellowship was done.
Areas like Fo Tan, Kwun Tong and Chai Wan had once been manufacturing hubs, but after 1997, many factories moved across the border. So these empty concrete lofts were now a good deal for artists seeking space—which is to say, any space larger than the typical shoebox size of a Hong Kong apartment. We even had a discount because our unit was on the unlucky 4th floor (the number four is a homonym for "death" in Cantonese), and we later found out, considered to be haunted.
Though many of our neighbors were still mattress manufacturers and barbecued duck catering companies, there were an increasing number of artists who also lived there semi-legally, including a photographer and architect couple who lived on the top floor. Unlike our dusty concrete space, with the paint-splattered bathroom a friend said reminded her of the film Seven, this pair had turned their unit into a truly comfortable home studio, with track lighting and a cooking-show-worthy kitchen.
Adrian and I would often go up there for dinner, and to play with their two dogs who they had rescued from being ripped apart by a pack of wild dogs on the mountain behind the warehouse complex. One of them, a miniature poodle whose tongue was permanently drooping out, was named Cheung Mo, or "Long Hair," just like the nickname of the veteran political activist turned legislator Leung Kwok-hung.
This apartment was also where I reached what I realized in retrospect was the high-water mark of my Cantonese. The photographer asked me to participate in a salon-type marathon of talks they were hosting, provided I could do my Q&A in Cantonese. It's a cliché that Hong Kongers are practical above all else, but it's true that sometimes people would just prefer to speak fluent English rather than struggle through a gweilo's mangling of their native tongue.
Still, some local friends, artists, and curators encouraged my studies, and challenged me—like the venerable video artist and organizer who had helped kick-start the city's media art scene in the early '80s mainly as a means to do LGBT activism. As I had started curating some events for her organization, I was once at an intern-training meeting when she suddenly turned to me and asked me to explain Situationism to them in Cantonese. I stumbled through something about the city and streets and how everyday life can become weird, until she took over for me.
That day in the Fo Tan loft, I did barely better than the Situationism pop quiz, but I was proud of myself. If only I had been compelled to do that type of talk every week, I might have progressed. Later, all the speakers and audience walked down the road to eat at the dai pai dong famous for its roast pigeon, and I began to forget every word.
*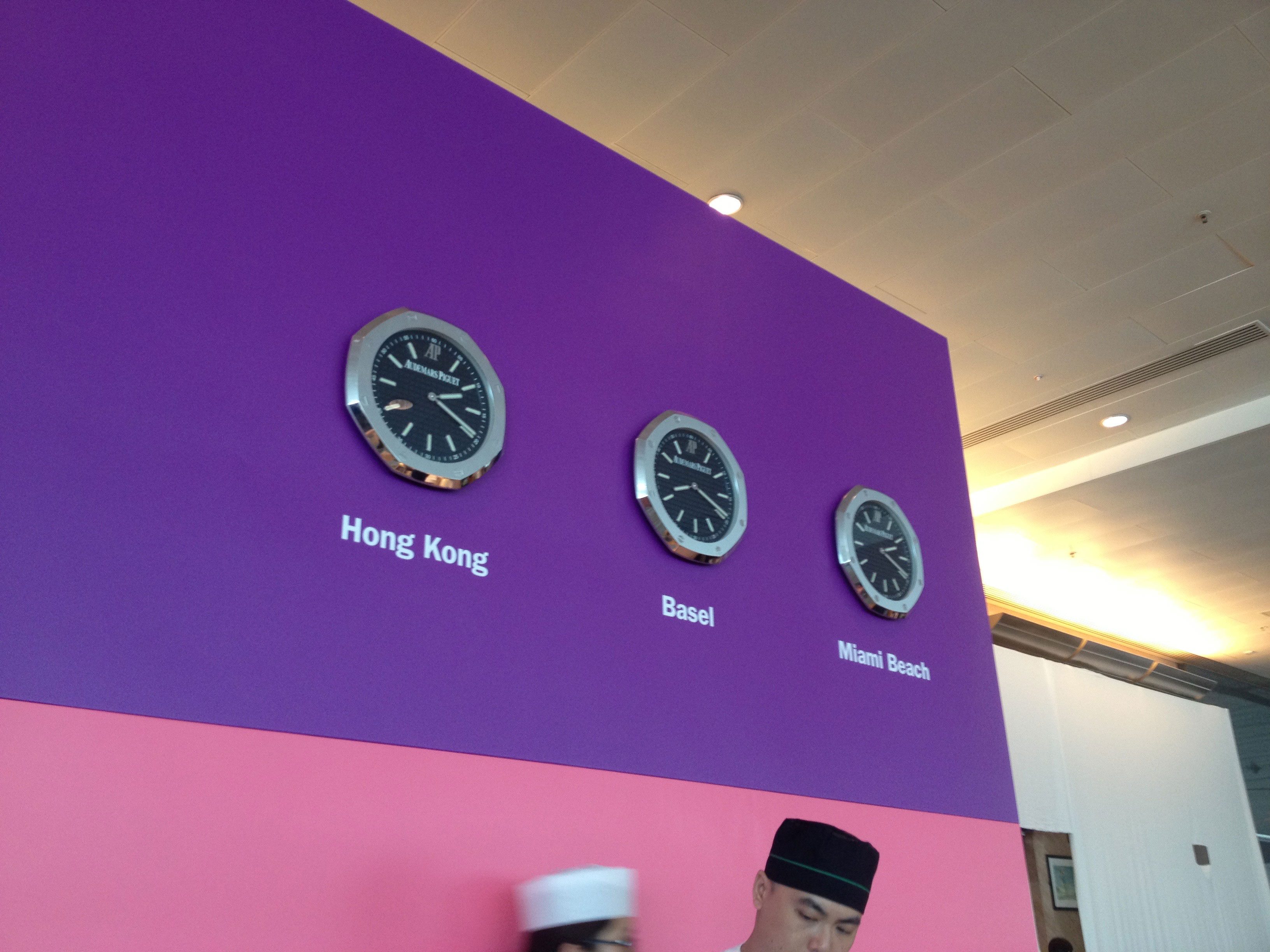 The following summer, I would attend the 10th-anniversary march and also co-curate a special project to present the works of 10 Hong Kong artists at the Shanghai Museum of Contemporary Art. The curators and I invited artists to create works less than 10x10 centimeters in size, to be packaged in a custom-made suitcase covered with the classic Hong Kong "red white blue" pattern. We installed it on a pedestal in the museum where it was dwarfed by the other pieces. But we intended it to be small, to highlight how Hong Kong art was often big in ambition if not scale, and utilized limited resources to take root.
There was nothing particularly provocative in our box, but it was held up at customs being inspected alongside all the other artworks. As only a few days earlier, my friend and I had carried an artist-designed banner emblazoned with messages about June 4th through the streets of Hong Kong, this was a reminder of just how different things still were. Luckily, the censors found nothing sensitive, so our little care package of Hong Kong took its place in the museum.
*
The following spring saw the launch of the ArtHK art fair, which led to a slew of headlines about how Hong Kong was no longer a cultural desert. The fair was acquired by Art Basel in 2011, and officially branded as such from 2013 onwards, but even in its first incarnation, it showed an ambition to make Hong Kong art a little sleeker, a little hipper, a lot more lucrative.
Three days before the Olympics, I moved to Beijing to work for one of the Guangzhou artists who had relocated there, to help her build a virtual Chinese city in cyberspace.
The Mainland art market was still much larger but Hong Kong was coming into its own. Each time I returned to HK, there was more attention and money floating around the art world, which was good and bad. Some of the old activist-art guard felt ignored, irritated they had been fighting the good fight all along while a younger, more international, more e-flux-friendly generation of artists were now reaping all the rewards. Others felt that the rising tide lifts all boats, and the new spotlight on Hong Kong art could only be a good thing.
Still, there was a sense of apathy, or at least abstraction, about politics that any influx of capital can create. It was jarring to see so many foreign dealers, collectors and critics sipping champagne against a backdrop of politically charged installations at Basel openings, oblivious to their meaning. One year at a warehouse party in Chai Wan, the crowd danced under a labor-themed neon installation by a local artist, and I couldn't help thinking of his other piece installed across town that read:
NOTHING WE DID COULD
HAVE SAVED HONG KONG
IT WAS ALL WASTED
*
Life changes. Life goes on. Sometimes a can of pineapple doesn't even last until its expiration date. Suddenly it was late September of 2014. By then I was living in Shanghai but was visiting Beijing Design Week, planning to go to Hong Kong a few days later for some research.
One evening, after architecture panels and craft-design pop-ups, I was having drinks in the hutong bar owned by a Hong Kong friend, and we couldn't stop checking our VPN-ed phones in disbelief. Reports from friends and the news confirmed that the police had just pepper-sprayed demonstrators who were launching their Occupy Central protest.
I changed my ticket to the first available flight and landed in Hong Kong the next morning.
*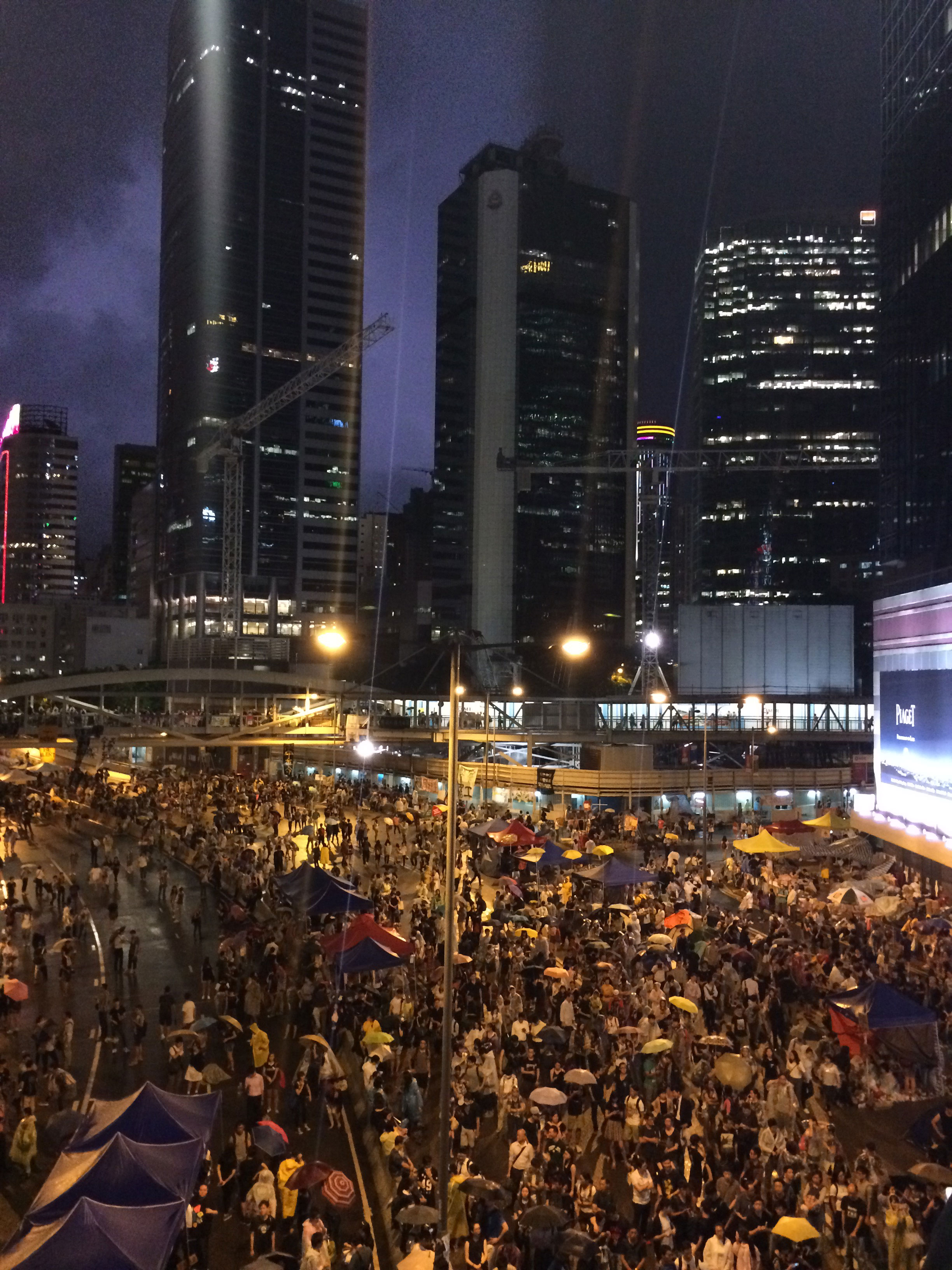 After dropping my bags at a friend's house, I took the subway to Admiralty and exited to a city transformed.
The streets near Lippo Center were deserted; all traffic was being rerouted for miles in either direction because of the blockade in the middle of Admiralty. I walked to the McDonald's where I was to meet friends, as I'd been warned that phone and data signals were unreliable close to the protest site.
The restaurant was a hive of activity, having been turned into a makeshift community center for young people charging phones and battery packs, drinking water, congregating in the air conditioning, and most crucially, using the bathroom. Somewhere in the background, McDonald's employees continued to serve food to trendy-looking teens and twenty-somethings draped in incongruous protest gear—face-masks slung around their necks, rain ponchos bunched up around their shoulders.
I waited for Adrian, still a close friend even though we had broken up six years prior, and when he and his wife (also coincidentally named Samantha) arrived, we walked out to the main road and were helped over the concrete barrier by volunteers who had posted themselves at the metal ladders. The thing that would become almost a cliché in the coming days of reportage was nonetheless true: it was all so organized.
Girls in school uniforms were distributing water and umbrellas and ribbons, medical students were running emergency healthcare tents, strong-looking dudes were pushing plastic road barriers back and forth to reconstruct the landscape of the protest site. There were mobile libraries, music circles, food dispensaries, and democracy classrooms, with a rotating line-up of protest leaders at certain amplified points.
I couldn't stop taking photos of the protest signs – a proliferation of memes, jokes, poems, lyrics, and slogans that were posted as photocopies, or spelled out in duct tape, scrawled onto tarps. The signs quoted sources as diverse as Les Miserables and Tupac, as well as highly localized icons like Leslie Cheung. Some were instructive—"No Cooling Gel Sheet on HEAD, put on NECK!" Others were brutally satiric—portraying the widely reviled HK Chief Executive CY Leung as a ghost or Chinese vampire. There were Winnie the Pooh and Paddington Bear, Moomins and McDull (the HK piglet cartoon icon), and plenty of protesting Hello Kittys.
And the signs were only a small portion of the "public art" of the protest. There were sculptures, installations, video projections, hybrid online/offline pieces like the one by XEX collective that broadcast live messages of support from around the world on the building facing the city hall (that their creators somehow hacked together the adequate data bandwidth to run). The "Lennon Wall" with its hundreds of thousands of rainbow-colored post-its, uncovered and re-covered in Saran wrap to protect these messages from the rain.
And there were the umbrellas—the most brilliant objects, individual sculptures or a mass installation, both utterly functional and symbolic.
Adrian and Samantha and I walked for hours as darkness fell. We grabbed a snack in the giddy line at McDonald's, and headed back out. At night, the lights reflected off the plastic wrap and umbrellas of the crowd, giving a luminous quality that was never properly captured in news photography or the drone documentation. We were all glowing.
We wandered up and down the highway ramps and the pedestrian walkways, now all of one system instead of segregated between humans and cars. We ran into old friends from the Fo Tan days—including several artists who had turned to activism full-time, and some who were still doing art, like the photographer and architect couple. We walked down to the waterfront with them and their new dog (Cheung Mo had long since passed away) to chat over bottles of iced tea. As the photographer was an alumnus of the Chinese University of Hong Kong, he confirmed what I had been reading—that so many of the protesters came from CUHK, and its English department in particular. The students had been striking class for more than a month already, and they had large numbers among the protesters sleeping full-time in the camp sites.
I felt stunned and moved by this, the reality of change—I couldn't imagine my long-ago students doing this, but their counterparts a decade later were out on the streets, building barricades, calmly facing lines of police in riot gear and teaching each other how to cover their eyes with Saran wrap when the tear gas and pepper spray went off.
The protesters had, of course, learned from generations of activists before them. I was astonished the first time I saw the nonviolent tactics they were using for dealing with the "counter-protesters" (which is to say agitators). It was like watching some weather pattern—a swirl would happen somewhere in the crowd, where it was clear somebody was trying to cause a disturbance or actual violence.
Suddenly a group of protesters would form around him in a circle, their own hands up in the "defense" posture, and shout as loudly as possible, "CALM DOWN! CALM DOWN! CALM DOWN!" in Cantonese while marching/moving them, at the center of their cell, to the edge of the crowd and out of the protest site. It's hard to describe the electric energy of a group defending against a "dangerous element" and peacefully, if loudly, removing them.
The streets had become a living room, a classroom, a gallery, a sketchpad for the city that its youngest and most hopeful citizens wanted to see. An act of living memory and creativity. I wished I could somehow turn to the interns at that long-ago workshop where the video artist had asked me to explain Situationism, and just gesture to the scene in front of us. "This. This is it."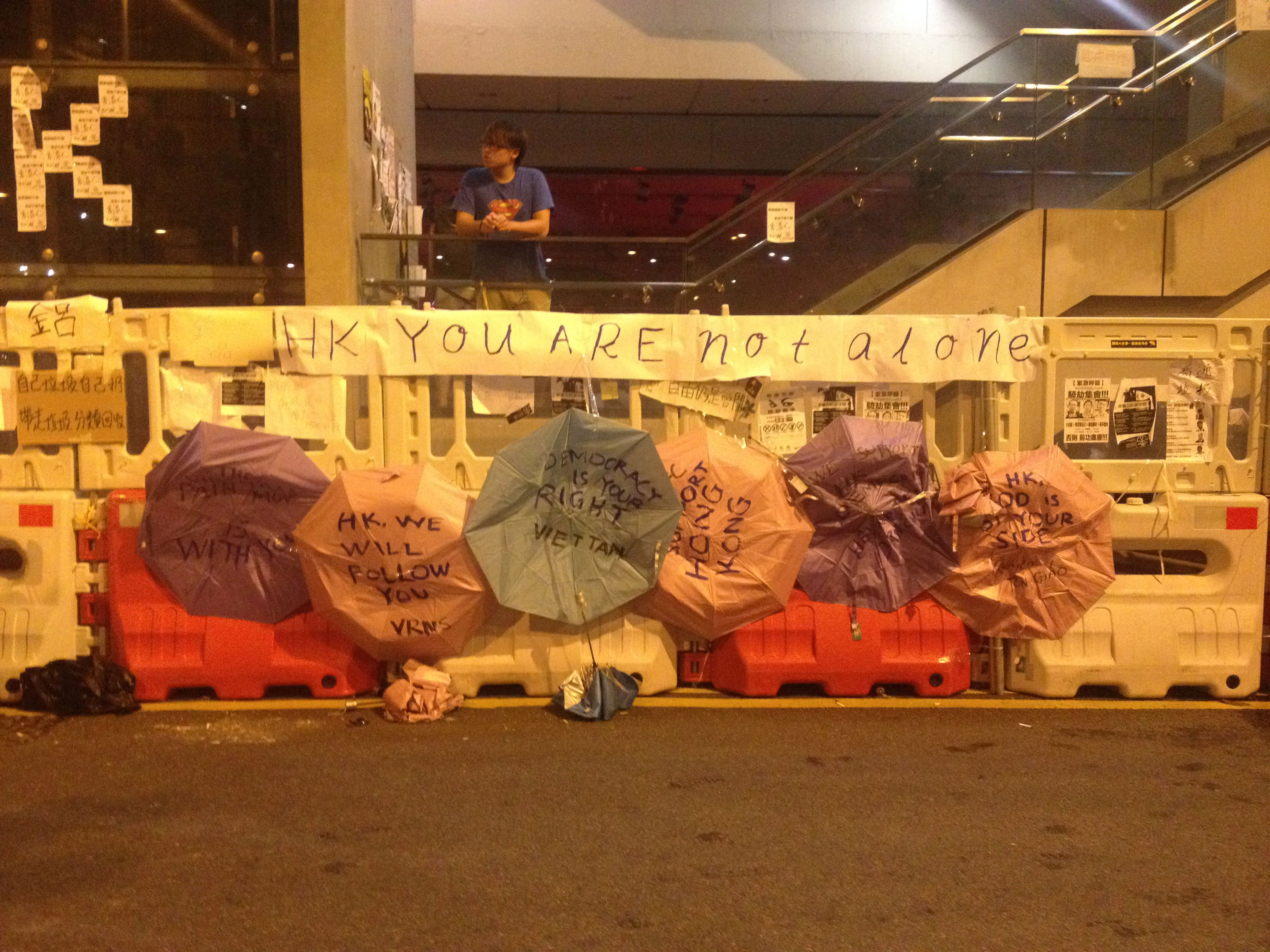 *
But it was only temporary. As the weeks dragged on, the public's irritation with the interruptions to everyday life increased, as the protesters' energy flagged. Eventually all the protest camps were cleared without violence. Another scene of anticlimax.
The Umbrella Movement was a city-scaled art work that was no less powerful for the fact that it didn't last. It will remain, perhaps, Hong Kong's masterpiece.
*
A few weeks ago, I was on the phone with a friend who works at a Hong Kong auction-house, where she leads the department that helped create the entire category of "neo-literati" art, centered on contemporary ink and calligraphy that doesn't fit neatly into antiquities nor into the conceptual extremes of contemporary art. It's perhaps the most profitable category in the Chinese art market today.
She observed, almost as an afterthought, "I was thinking again about the July 1st anniversary, and I realized, one reason it felt anticlimactic is because everybody just knows…that the city just feels different now."
It's intended to feel different. On the anniversary, Xi Jinping casually stated that the Joint Declaration "no longer has any realistic meaning," implying that "One Country, Two Systems" is over, at least in the perspective of the Chinese government. On August 17, student leaders of the Umbrella Movement, Joshua Wong, Nathan Law, and Alex Chow were sentenced to jail time for their role in the protests (which legal analysts consider an affront to the rule of law).
A week later, Sir David Tang, a patron of the art world and sometimes divisive elitist (some would say a colonial throwback), passed away. For all his aristocratic status, he was a symbol of Hong Kong identity and actually spoke out in support of Hong Kong's democracy activists during the Umbrella Movement.
It is as dangerous and misguided to write an obituary for the Hong Kong I once knew, as it is to be blindly optimistic. As Lu Xun wrote in 1925: "despair is as hollow and deceptive as hope!" But there is no denying this is a particularly dark moment in Hong Kong's history, more so even than spring 2003, when the air itself turned traitor. When speaking unmuffled carried an uncertain price.
I still think back to one of the countless signs of the Umbrella Movement days and nights. It depicted a little cartoon bear wearing a face-mask and a plastic poncho, carrying a yellow umbrella, her hands raised in self-defense. Beside her were these words:
"We are unarmed,
what we hava got are just
an umbrella, a rainsuit, and
some plastic wrap."
We don't know yet if that's enough, but it made me realize something about the betrayal of growing up. The world we were promised and so perfectly prepared for is gone by the time we reach it.