Last Resort
August 27, 2018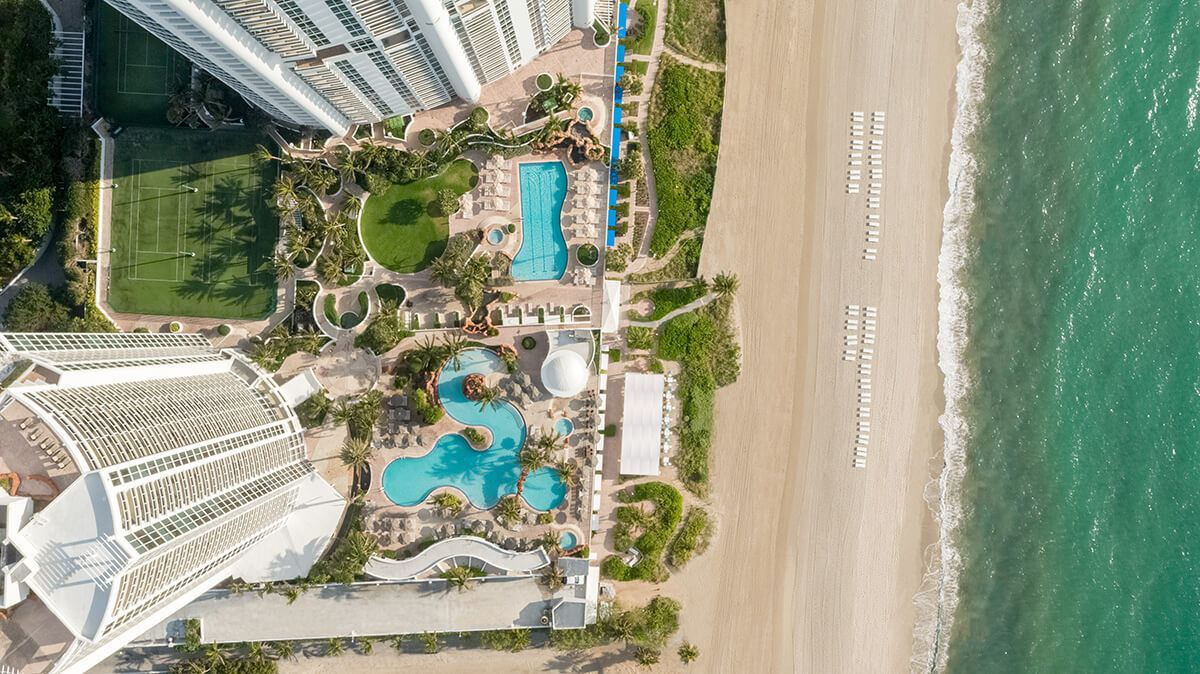 Within 20 minutes of arriving at the Trump International Beach Resort in Sunny Isles Beach, Florida, I was attacked by a bird.
Boat-tailed grackles, common scavengers of Florida's coasts, are known for their arrogant hijinks—stealing fries right off people's plates, and all that. They're also rapidly losing habitat because of global warming. Was it ironic that this grackle had chosen the Trump resort as a place to nest—a machine that requires incredible energy, named after a president that's supporting historic cuts to environmental regulations—or did it make perfect sense?
In coming to a Trump resort, I'd fantasized of infiltrating the belly of the beast, of exposing the dark contradictions that fuel luxury tourism; the even darker machinations of the Trump Organization; and the complicity of those branded products and places that choose to keep the Trump name. I imagined a vacationland of excess, golden columns and gaudy chandeliers; tuxedoed servants spinning amongst the tokens of capital run amok.

Opened in April of 2004, Trump International Beach Resort is independently owned and operated by Dezer Development, a commercial real estate firm run by father-and-son Michael and Gil Dezer. Like dozens of properties around the world, the resort licenses the Trump name, but the Trump Organization isn't involved in the day-to-day management. However, there are reports of some peculiar goings-on, like the fact that the North Miami Beach Mayor admitted that his wife was being secretly paid by the Dezer family while he was voting on Dezer developments. There's also the report that several Russians convicted of money laundering—and known members of the Russian-American mob—own condos in the Trump properties just north of the resort.
The last weekend of April, I was on a plane, slipping the grip of a long-lingering New York winter. Having spent the first 27 years of my life in Miami, I was also, in more ways than I could anticipate, on my way home.
Since there were no availabilities at the Sunny Isles resort that first night, they put me up in the Trump National Doral (which is actually run by the Trump Organization). That evening, I looked out from my balustraded balcony onto the wide expanse of the golf course. There was a tall, three-tiered fountain flanked by sculptures of rearing horses. In the foreground, a giant American flag flapped silently in the velvet night. My imagination wandered: I pictured the Sunny Isles retreat as a lavish, sunny garden, populated by various species of fascist and despot.

When I arrived the next morning, I was confused to find a humdrum, family-style resort. The aesthetic inside was upscale, but neither ultra-modern nor contemporary. There was more mustard-colored decor than you'd expect. I thought I'd see MAGA hats and Wall Street bros, but the Trump International Beach Resort actually lives up to that part of its name.
Over the course of my two-day stay, I interviewed Canadians; a family from Argentina; a couple from Shelton, Connecticut; a producer for an Israeli pop sensation; a Saudi Arabian family; an elderly Lebanese-French woman who said she'd sue me; and Amy from Transylvania. Some loved Trump, most supported him, some were indifferent, only one person hated him. Most of the people I spoke with mentioned wanting an affordable vacation on the beach. Which, at $200 a night, Trump International Beach Resort offered, relatively speaking.
I walked around while my room was readied. The amoeba-shaped pool on the second floor outside, or "grotto," had concrete painted to look like boulders. Real sea grapes grew out of the tops. There were a couple waterfalls, palm trees, an outdoor bar. Looking over the edge at the other pool on the first floor, I spotted a disheveled tennis court—no nets; a scuffed, dirty floor; no lights atop the tall green poles. It was like coming upon a ruin. The Floridian in me knew this disarray was because of Hurricane Irma; it just had that aura of mid-post-disaster cleanup. Then the quiet turned more ominous. I was sure I was being watched.
After hearing a slight rustle in the fronds, my first compulsion was to investigate. But then I felt an overwhelming urge to run.
There was a whack on my head, an ear-ringing squawk, a blur of blue-black iridescence. The boat-tailed grackle landed on a palm by the stairs, its eyes wide with mocking disdain. It lifted back into the air, then dive-bombed again. I scurried back up to the grotto.
Though not everyone I spoke with was a Trump fanatic, I gained a greater appreciation for how the far right might continue its ascension in tandem with our particularly surreal and goofy stage of neoliberal capitalism. The word "resort," which connotes a place of lodging where one can engage in restorative, relaxing, and entertaining pursuits, comes from resorten (Middle English) and resortir, which originally pointed to the habitual action of returning to something. We resort to the resort because we really need to escape our own lives, again and again.
But in this escape, we often find ourselves ensnared in the other end of the same equation. The contemporary resort, in most cases, includes projections of wealth (in terms of their palatial architecture and design, and the fact that you're being waited on); opportunities to self-indulge (eating, sleeping, drinking, generally vegetating in a dissociated, disconnected state); and, of course, the water view.
Despite the many changes in vacationing—from robotic room service to increasing emphases on intellectual and spiritual growth—water has maintained psychic real estate in our lives as something therapeutic. Though seaside resorts might seem apolitical on the surface, and despite the ancient history of pools and coastal escape, there is an ideology at play, especially at a place with the Trump name. It's a space of indifference, a contraption for forgetting. While we stare at the water and soak in its beauty, we're supposed to forget the fact that oceans are toxifying and turning plastic.
At the pool I met Kathryn, a lawyer from Ontario who practices health law—"state litigation, risk compliance, things like that." With jet black hair and triangular shades, she was under a large umbrella picking at a plate of honeydew and cantaloupe. She'd decided to take a few days for herself and escape wintry Canada. Her stay so far had been nice, she had no complaints. I asked her why she chose this resort and she said, flatly, "Location." A moment passed. "I almost didn't stay here because of the Trump thing." So why then? "It was the best price point. We decided just to make the economical decision and go with it. I think friends of mine would be shocked to know I stayed here. It's the hotel that will not be named, actually."
This was more odd to me than a profession of love for Trump. How could someone ignore the little voice in their head that says "no this is wrong don't do it," and risk ridicule just for an affordable stay in this zone of make-believe, when there are plenty of other zones of make-believe? (By affordable I mean affordable for lawyers.)
Maria, lotion-slathered on a white chaise lounge looking out at the ocean, had an answer of sorts.
"We don't really think of politics when it comes to vacation," she told me. "Otherwise we wouldn't stay anywhere." Indeed, the leisure industry, like the vast majority of industries, operates according to extremely disproportionate conditions. The real estate developers (those at the top) make all the money, and the laborers (those at the bottom) make much, much, much less.
Maria, also Canadian, liked the fact that there were so many different types of people around. "Sunny Isles is very popular with Russian families, and a lot of families from South America. It's a really good mixture here." Despite Trump's anti-immigrant nativism, the resorts bearing his name flaunt a neoliberal globalism. There were several Russians around the pool, as well as an Arab woman in a hijab with her young son and husband, whose name was Fahad and, I came to find out, was himself a Trump supporter. I saw several families from Brazil (one mom was wearing a shirt that said "All I can be is me, whoever that is"), and yarmulked men. There were Jamaicans and Haitians, but they all were working as beach attendants.
What was really confusing were those visitors I met, not from America, who were supportive of someone who plainly has put "America First."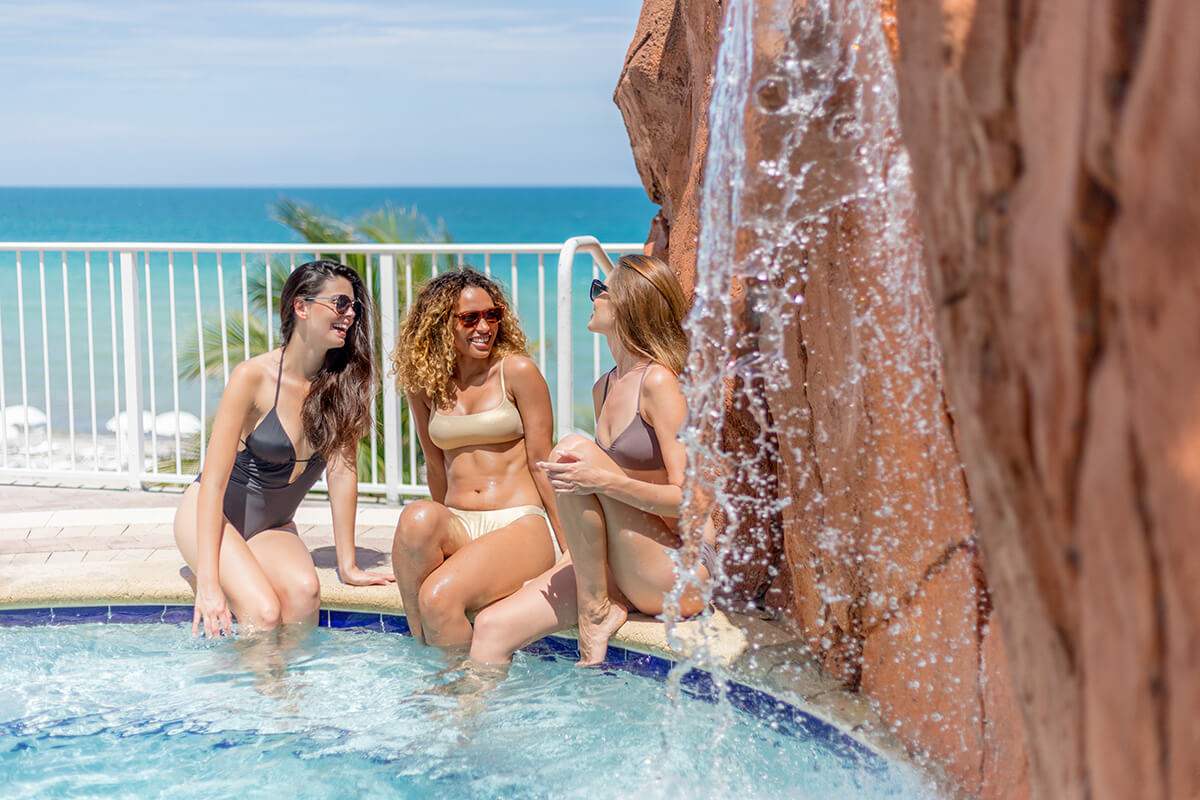 I took a break on a low wall over by the tennis court. A fragile détente had developed between me and the grackle. The resort, a stage for leisure and luxury, was a disorienting tower of 31 floors. I anxiously panned the pool area, projecting my insecurities onto various patrons and employees. A spiritual nausea started to churn, the kind of guilt that comes from partaking in pleasure in spite of tragedy.
As the PR person described it while giving me a tour on the second day of my visit, "The whole building is a circle, so you can never get lost—you just keep walking around in circles." While I wouldn't say I ever got lost, per se, there were plenty of times where I felt it. On vacation during the end of the world, I felt as if I was at the last resort.
Tucked away on the second floor, the Business Center has gold-tiled columns—mini-versions of the ones in the lobby—and two desktop computers that cost 50 cents per minute, $7.50 minimum. Four clocks read Miami, Los Angeles, London, Tokyo. Like much of the resort, it's a time warp. Though it was 11:55 a.m. EST, the Miami clock said 4:19. L.A. and Tokyo were off by five minutes, London by about four hours. I looked again, and saw that the London clock was actually not ticking at all. Also, who in 2018 would pay money to do business on a public computer?

Trump International Beach Resort abuts Collins Avenue. John Collins, a Miami Beach pioneer, was a Quaker who bought land in Florida in 1891 so he could grow coconuts, mangoes, and avocados, known back then as "alligator pears." Out front, a giant sculpture of a hollow steel globe perched atop a plinth bears the resort's name and a coat of arms, which has a cursive T (for Trump) and I (for International) topped by a crown. Surrounding the globe are steel rings that resemble the paths of electrons spinning around a nucleus.
Surrounding the elevator bank is an inner loop of retail: Exclusively Baronoff Realty, which manages the sale of condo units in the building and throughout Miami—condominium-sized souvenirs, which double as investment assets for the global moneyed class; The Cabana Shop for boogie boards, goggles, fluorescent towels, plastic pool tubes, sunglasses, Havaianas, TIBR hats, TIBR towels, TIBR robes, and various Britto-branded pieces of garbage. The keepsakes, tchotckes and non-essentials of resorts and airports and other non-spaces seemed so outdated, what was even their function in the first place? To commodify (and thus, solidify) memory—a proof of presence? In the middle of a white concentric circle on the tile floor, there was a tiny red Trojan car. (The Dezers own an auto museum which, I'm told, is being turned into an action park, whatever that means). The Village People's "In the Navy" was playing.
The fourth floor had an eerie corporate emptiness, like a Monday morning after oblivion. According to the TIBR website, these rooms have hosted companies such as Nestlé Purina North America, Boston Scientific Clinical Operations, and the Florida Watermelon Association. The placard on the Sunny Isles B room read Nine Dragons Consulting Ltd. On the door was a poster of an older woman smiling the sort of PR photoshoot smile that bears the upper teeth, and some text in Russian. Her name is Natalia Pravdina, and she runs the Center for Positive Thinking and Eastern Metaphysics, which sells a mix of self-help, feng shui, and talismanic personal finance. Besides seminars and personal consultations, she's written books including I Am Always Lucky, My Child is a Future Millionaire, and Secret Love Sex. Despite my efforts, I was unable to secure an interview with Pravdina. But I highly recommend watching some of her videos on YouTube.
*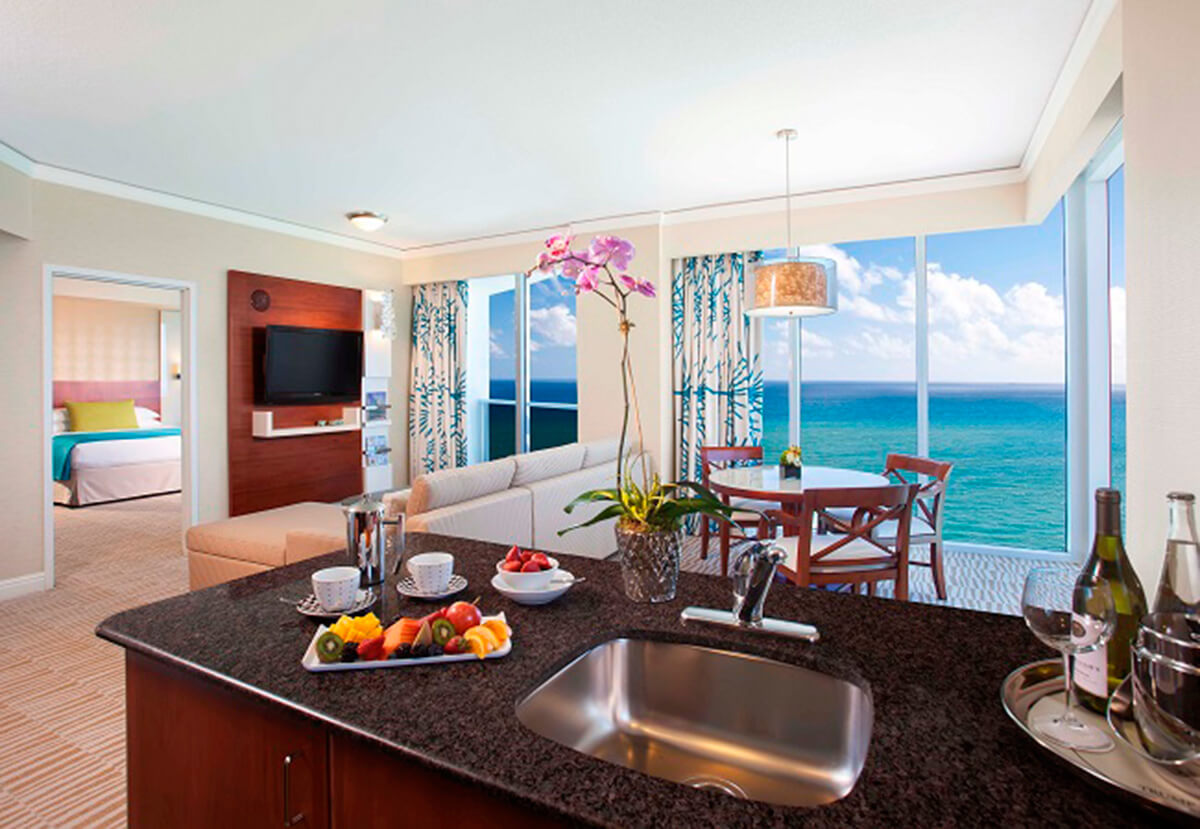 Two hours after I arrived, my room was ready. Actually, calling it a room isn't accurate. It was a giant apartment on the 24th floor, with beige carpeting, a full kitchen with a marble-topped island. Instead of a mini-fridge, there was a regular-sized fridge filled with booze: a global medley of Heinekens, Coronas, nips of Baileys and Grey Goose and Don Julio that I was exceedingly careful not to drink. A flat screen TV, an L-shaped couch. A dining table.
But I didn't see any of this at first. My eyes were drawn immediately to the floor-to-ceiling windows that look out onto the HD Atlantic. It was stunning. The huge sky, clear save for a few strands of cumulus; the ocean a narcotic green, which deepened gradually to teal, to aqua, and then the deepest of blues. Jet skis sliced its surface. A squadron of pelicans flew level with my room, followed by a little yellow helicopter. Sailboats drifted nowhere in particular.

The bedroom had a king-size bed and the same giant windows. Out on the balcony was the super-loud whooshing of an air tunnel, and a chaos in being so high up while looking out at the oceanic horizon. If you are an acrophobe (fearer of heights) or thalassophobe (fearer of the sea)—or worse, both—it's a fucking nightmare.
On my bed, a promotional card for Exclusively Baronoff Realty read: "OWN A PIECE OF TRUMP." The Trump International Beach Resort is technically a condo-hotel, where people who buy a condo can rent it out to the resort, who then rent it out to tourists. According to the little card, under this arrangement, "owners receive revenue and defray the usual expenses of ownership." It's a solid upfront cost though: the condos start at $305,000, most likely a cheeky nod to Miami's area code.
Down on the beach, as the waves lapped the shore, I spoke with a family from Argentina. Their skin was leathery from the sun. The daughter, 12 or so with thin blonde hair, said they came for the beach. The dad said he supported Trump because he's a businessman. The wife, who had a modelish look and a drink permanently affixed to her hand, sauntered over and explained why she liked Trump: "Because Mexicans and all the immigrants. Argentina has a problem with the immigrants. A lot of immigrants use a lot of greed. The study, the medicine—all free. And the Argentines, we don't have free. I love the immigrants, but in your country, not in mine."
She really loved Melania. "The shoes of Melania, I love. The first lady!" The dad mentioned how amazing the U.S.A. is because we have "security, economy, market, police, United States Army," and the two of them joked that they should get U.S. citizenship for coming to the Trump resort so often. On a totally unrelated note, Argentina's right-wing military junta disappeared 30,000 people between 1976 and '83, and the country's bigotry was so bad that in 1995 they had to develop the National Institute Against Discrimination, Xenophobia and Racism.
After thanking them for their time, the wife came back over and delivered a dramatic final line, resulting in applause and hoots from the whole family: "And next… We go… to AVENTURA MAAAALL!"
*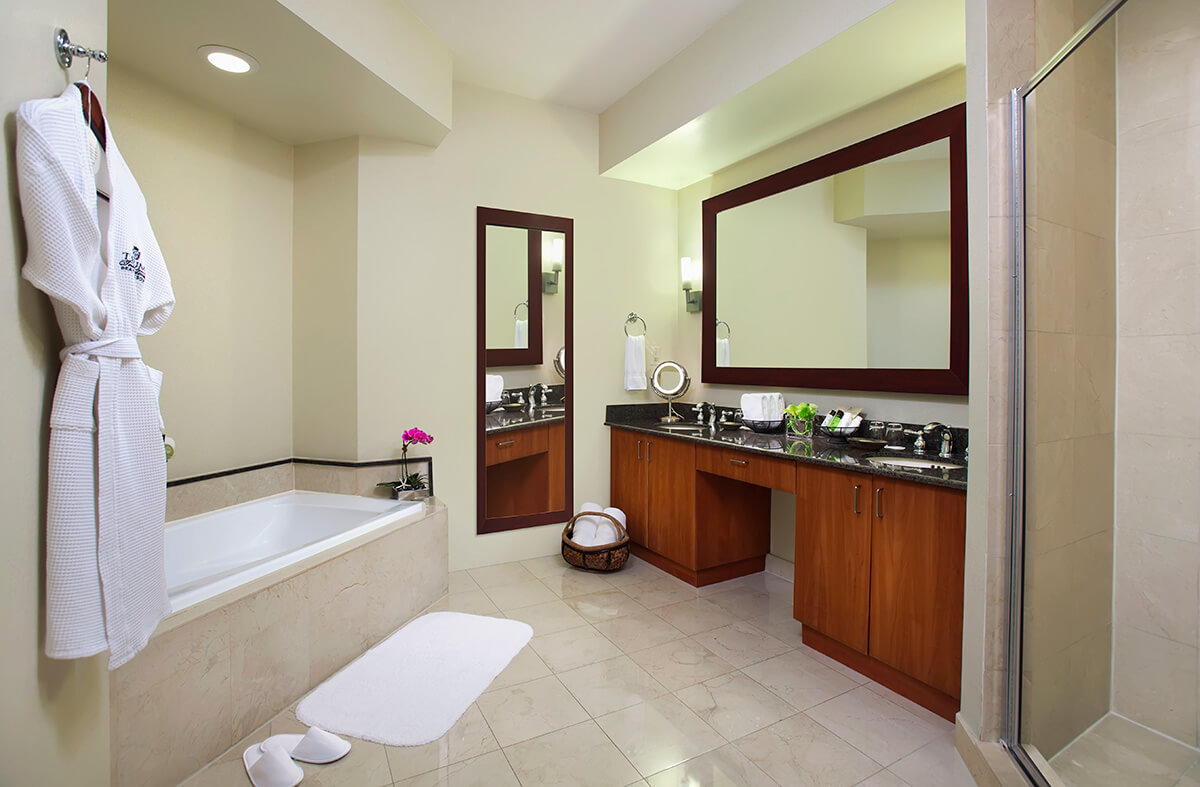 Back in my room, I watched the shadows of the neighboring Trump Palace and the Trump Grande slide into the ocean as the sun went down. The beach was empty except for beach attendants rolling the umbrella carts across the sand. Loneliness spread throughout me. I drew a hot bath, which was so big it took about 25 minutes to fill. Disappointed that there was no bubble bath, I soaked miserably in the deep basin. I wrapped myself in the white robe with the Trump International Beach Resort insignia on the breast, put on the TIBR slippers, and made the mistake of looking at myself in the mirror.
Why was I doing this? Why was I there? What at first seemed like an opportunity at infiltration felt, at that point, totally useless—some writerly self-indulgence. Shouldn't I instead be putting my body in solidarity with those who are fighting for emancipation, agency, and access to resources? But I remembered Maria's words, how you can't go on vacation anywhere without some ethical impasse.
Funnily enough, my visit coincided with my mom's 69th birthday. We met in the lobby and went to Gili's, the restaurant at the edge of the resort where you can put your feet in the sand. Alan, our server, was an Italian guy with black slicked-back hair, a 5-o'clock shadow, and wraparound shades. He mentioned that the bar was already getting some drinks and food prepared, but he warned me that the drinks might be kind of "foofoo." I wasn't sure exactly what he meant by that. Banana daiquiris arrived, and they were very sweet and, yea, pretty foofoo. I ordered a margarita instead and a whole wheat wrap. At one point my mom mentioned how he was such a great server (he really was), and Alan responded: "When you've been subservient for so many years, you lose something. A little light in you goes out. I don't like to be like that." Mom and me picked at the tostones with crab and shrimp, doused in some sort of mayo sauce.
After dinner, I took her up to see the room. We stopped in the hallway to look out on Sunny Isles. Mom gasped and choked back tears, seeing the city she's lived in for 66 years from a perspective she never gets to have. (Even though Sunny Isles isn't technically Miami, it's part of Miami-Dade County, and Miamians consider the whole county to be part of the city.)
Looking out, you really do get a sense of how paradisiacal this place is, visually speaking. When investor Harvey Graves Baker bought 1,900 acres for a resort in 1920, he called it "Sunny Isles—The Venice of America." Then at some point they started calling it Florida's Riviera, either because "Sunny Isles—The Venice of America" was too ridiculously long, or maybe because of the Venetian Islands down by South Beach, or because Ft. Lauderdale had already snagged the "Venice of America" nickname. Either way, you get the idea: this place is so pretty that it reminds rich white people of Europe.
Today, with 10% of the population Russian, it's known as "Little Moscow."
*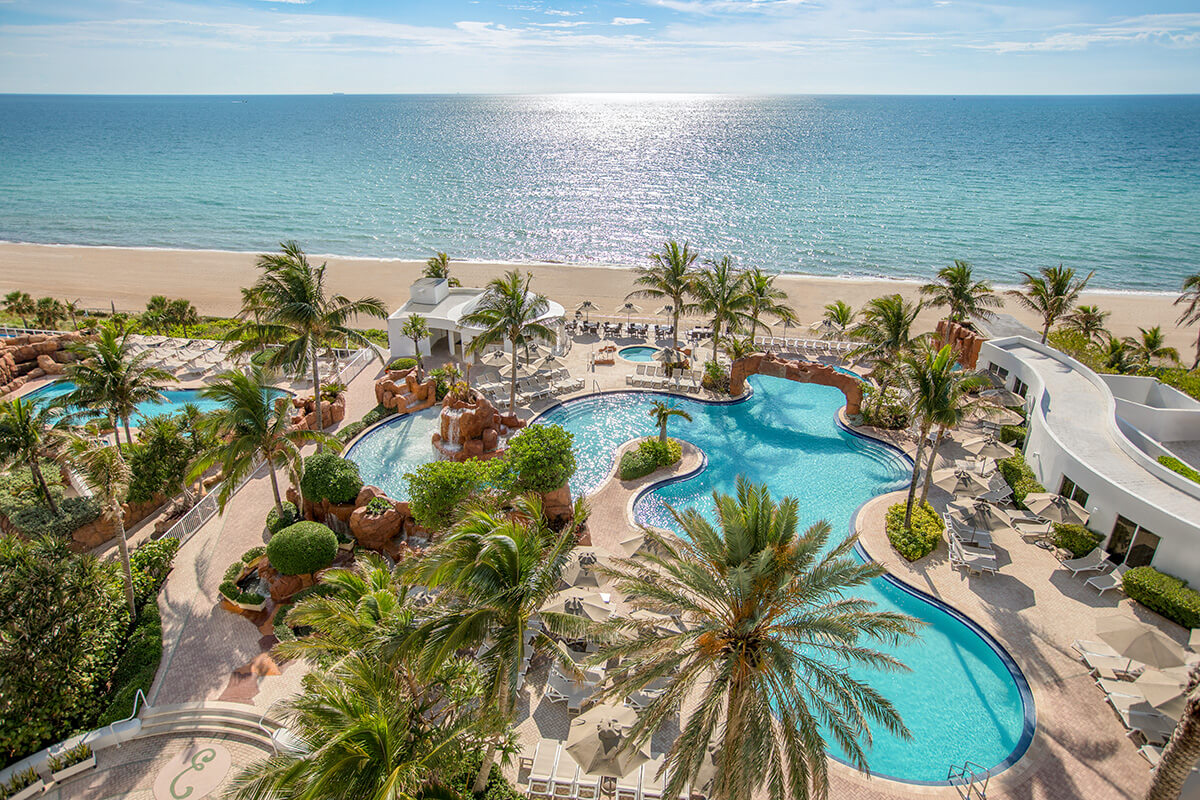 At one point during my stay, I came across a young couple in a cabana. Greg was a shade of sunburned that can only come from day-drinking. He had a chin beard and a shirt that read Ft. Lauderdale. Rachel was deeply tanned, with short brown hair and a bright pink bikini. They're from Shelton, Connecticut. "We were at a bar," Greg said. "I looked at her, like, 'You wanna get on a plane and go?' No luggage, this is our luggage right here," Greg laughed and grabbed his crotch.
I asked why they decided on TIBR, and Greg, who was very gregarious, said, "Honest to God, it's because I love Trump. I'm a Trump supporter. You don't have to like it, whatever. And I saw pictures and I thought it was beautiful. And I've always known that Trump has a good name as far as real estate goes. I've been to Trump SoHo. Awesome hotel. He does great service. People will not accept that because how he is way outspoken, I'll give you that, 100%."
Throughout, I prodded Greg on his allegiance to Trump. At one point, he said, "Like, I know he's an asshole. But so am I. He says stuff that I don't want to say and he's actually doing it." But at another point, he said, "It's a catch-22, I don't know. I'm stuck in the middle. I love him, but I think I hate him at the same time... I don't know what's going on anymore. So I'm confused. I'm on the fence, how about that?"
Rachel, also a Trump supporter, acknowledged some issues. "Yeah, he did some weird shit." Greg followed that up with "And they're making a big deal out of the Stormy Daniels. But it's [sic] a porn star. If I had a billion dollars I'd probably be smacking her ass too, I'm sorry." Rachel then asked me, "If you had a lot of money, wouldn't you be like buying strippers and doing weird dumb shit when you're drunk?" Greg, who didn't really let Rachel say more than a couple words before interrupting, was intermittently saying "YES, YES, YES."
Oh, another thing that resorts do besides encouraging the cycle of eating, drinking, and vegetating, is facilitate romance. And there was a weird sexual charge to some of the Trump conversations I had with the resort's patrons. Sitting in a jacuzzi was Almog, a producer for the Israeli pop duo Static & Ben El-Tavori—who sound like Meghan Trainor or Bruno Mars: super-polished contemporary pop with a 1950s swing and vanilla sheen. "He has big balls," Almog said, adrenalized. "I hope he's going to do something with his balls. But he has balls. This country is the most beautiful country in the world. They have everything. The people are very nice, very smart. He will make the economy powerful again, you know? We [Israel] are little sister, you know?"
In another conversation, while sitting around the outside bar, I spoke with a septuagenarian woman with starlet elegance. Her hair was striking, a burnt orange bouffant. Born in Beirut, raised in France, she'd lived in the Trump Royale since 2010, but preferred the Trump Palace because "The Royale is new money, with Rolls Royces. There are probably 20 Ferraris, two Bugattis. It's younger, much younger, and the Palace is families."
"Sometimes it's embarrassing," she said, of living in The Royale. She looked at me and said, "Young people like you have Bugattis and Ferraris." I laughed out loud. When the conversation veered into politics, she said, "I am not republican or democrat. I think these stories about Trump are so exaggerated… I mean, what—was he having a new woman every night? And what do we care? I cannot even touch you? If I touch you, or you touch me, it is sexual harassment. Touch me!" she laughed, "I will sue you!"

She later added, "A woman would say, 'Oh my God, [Trump] is so sexy. I really would want to be with him.' It's money and power, and that is so sexy."
*
Vacations are exhausting. Needing a "vacation from my vacation" is less a cliché than koan about the toil of leisure. An essential component of the slow-paced psychosis of my Florida sojourn? A massage at the resort's Aquanox spa. I'm not sure what the linguistic implication is (create an association with Equinox, the gym for sexy/rich/sexy-because-they're-rich people? Develop a placid sense of pan-latinism?), but while the stranger was rubbing my back and shaking my limbs, it struck me. Hospitality is abstracted intimacy.
It's all the pleasures of home, of having company and physical contact, without the emotional investment, without the responsibilities of building or maintaining community. The massage was soundtracked by an Eno-esque composition of pan flutes, symphonic pads, and highly reverbed rumblings that sounded like water and whale songs, like pots falling down a staircase in the most beautiful way possible.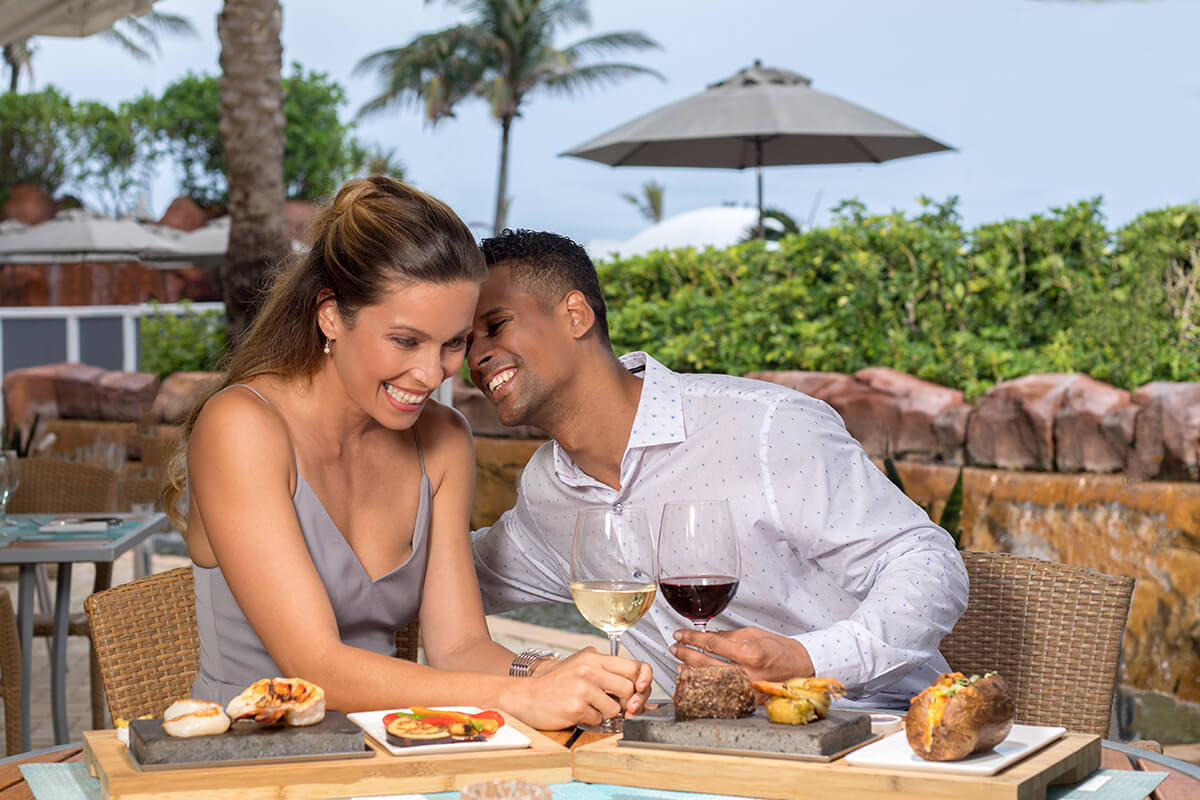 The muzak at Neomi's Grill—which serves "contemporary Floridian cuisine with a Miami twist," and has a Lava Stone Grill "experience"—was that annoying jazz kind when I was politely greeted by the host. His name tag indicated that he's from Puerto Rico—all the employees names and countries of origin are listed on their name tag, like they do at Disney. Though I had Lucian from Romania serving me, if I caught the eyes of any server, busser, or host/ess, they'd come over and ask, "Is everything ok?" It happened probably 15 times total. The first couple times it was reassuring. After that, absurd.
The refrain was so innocently hospitable and yet so open to nihilistic interpretation that it made me want to answer truthfully. No, honestly, I'm not ok. Are you ok? Do you need anything? The food was fine, the atmosphere was fine, but I wanted to tell these smiling new friends that this isn't how things need to be, that a different world is possible, that our voids can connect.

Lucian from Romania walked by and laughed knowingly as he asked me "Is everything ok?" for the nth time. I told him, in the most polite and sincere way possible, yes, everything is ok.
As I sat at breakfast, I thought about how, at one point in my back-and-forth between the beach, the pools, the hallways, and my room, I had watched from my window as some big machines meditatively moved sand around the development just south of the resort. The Estates at Acqualina are two residential towers that, when complete, will be the tallest in Sunny Isles Beach. Confusingly, they're being developed by The Trump Group, which is not the same as The Trump Organization, but rather two South African brothers named Eddie and Jules Trump.
The Trump Group is also in the business of luxury real estate, and has been sued by The Trump Organization, who claimed that they were piggybacking on the profile of the Trump name (The Trump Organization lost the case, but succeeded in having the South African Trump's trademark revoked). The residences, which broke ground with an insane-sounding event that included 25 Rolls Royces, a marching band, and three skydivers parachuting onto the site, will rival the Trump towers next door.
*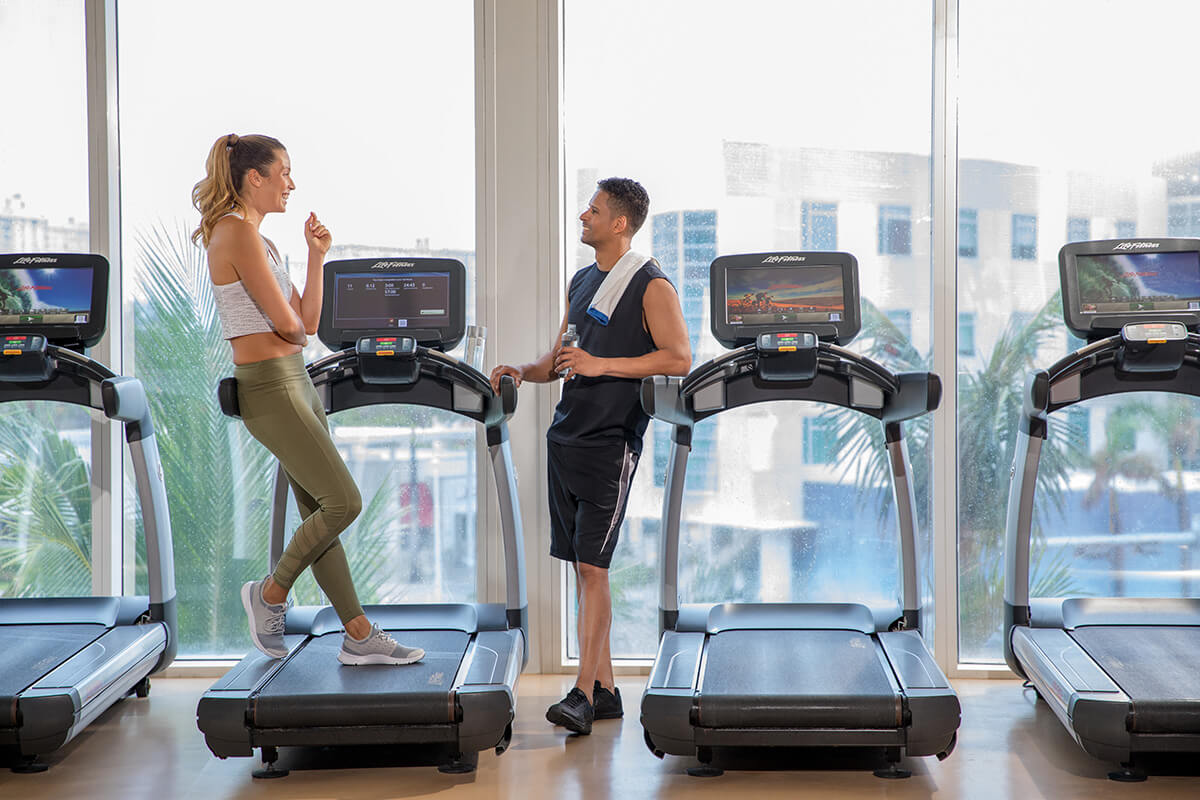 Back on the beach, I spoke with Amy from Lincoln Park, Michigan. Her accent was not Midwestern, and I did a mental double take when she said she was born in Transylvania. It was bizarre to speak to someone from a place villainized for its bloodsucking cultural export in a resort named after a president who villainizes immigrants for being bloodsuckers. But to acknowledge my own prejudice and assumptions, I found a certain literary sparkle in this detail: she pronounced all her w's as v's.
I asked about her life in Transylvania, realizing that I know next to nothing about the region besides the whole Dracula thing. "We grew up in communism. So that's a lot different than freedom, right?"
"Europe is a lot different than America," she continued. "I miss walking down the street and just going shopping and being outside and meeting everybody on a daily basis. And here, you don't have that. People are withdrawn into themselves." After lamenting gun violence, Amy said they were ready to leave the resort, since they can't handle too much sun.
After this, I got lunch at Matryoshka, the Russian supermarket across the street. I perused the deli's glass displays: smoked sprats, hot smoked sturgeon, cheese & sausage, cold smoked saira sakhalinskaya, assorted dry fish (the sign was staked in its eye socket), and what is the largest selection of caviar I've ever seen: Alaska salmon caviar, royal golden caviar, imperial amber caviar, black deluxe caviar, red salmon caviar, red Krasnoe Zoloto glass caviar, Marky's hackleback caviar, paddlefish caviar, and Siberian sturgeon caviar. The caviar selection only paled the salami section, which I'll spare you a near-total list of, but included salami kupecheskaya, salami poltavskaya, salami karpatskaya, salami moskow osobaya, et al.
The hot bar was similarly cornucopic: chicken cutlets with boiled eggs in the middle, many types of fried cabbage, duck legs, enough chicken salad varieties to please any pollotarian, several soups and vegetable salads. I went with Russian solankya soup, a couple cabbage salads, a chicken thing, and these tiny pancakes—they came with sour cream and horseradish, and turned out to be really awesome.
As I ate my meal, I pondered the Trump/Russia thing. The preponderance of Russians in the area, stories of Russian mafia owning Trump condos in Sunny Isles, the poster of Natalia Pravdina's creepy face on the meeting room door—these moments were mirrors to a larger truth. In this way, vacationing, a supposed respite from everyday life, serves only as a reinforcement of our anxieties, of the very circumstances that it promises relief from.
But I only needed to look down from the balcony to see this, to take in the shadow community of immigrants and minorities working to maintain the lifestyle of privilege. I cut into the chicken thing and a flood of oil spilled out. Even as I write this, I wish I'd gotten more of those tiny pancakes.
Back at the pool, a scrawny kid was working the towel counter. I don't remember his name, or where his name tag said he was from, but I remember he was genuinely nice, in a good old midwestern kind of way. I asked about the grackle. It turned out it'd been attacking a lot of guests, and the resort had opted to bring in a falconer for some bird abatement. I pictured the bird-of-prey menacing the skies, scaring the living shit out of all the lesser birds, forcing them to flee to another beachside resort.
I felt sorry for the grackle, this ubiquitous Floridian who had made its home here at Trump International. Maybe, rather than an omen, what I perceived as an attack was actually a warning, a tip from a friend who spoke a language I just couldn't understand.