The Art of the Flood: A Myth in Ten Parts
December 3, 2018
I
Nothing but a sandbar topped with more dredged-up sand, the city of Miami Beach is vulnerable to nuisance flooding—when the sun is out but the tide so high it casts the sea ashore, up through the drains and into the street. In November 2016, a King Tide brought an octopus into a parking garage, where it lay, like a stemless flower, splayed on concrete as gray as its drying skin. Folks say South Florida is sea-level rise's canary in the coal mine. We're the mollusk under the SUV. We're the SUV, too.
Water creeps into everything here, even the art. During Miami Art Week, four avenues in Pinecrest will be renamed Elevation Drive, as part of Xavier Cortada's installation Underwater HOA. The artist painted ocean scenes onto the road, with numbers indicating the streets' precise elevation above sea level. In 2016, Cara Despain's audio piece, Sea Unseen, bellowed like Orson Welles from downtown Miami's storm drains: "Where you're standing, it'll be a lake soon."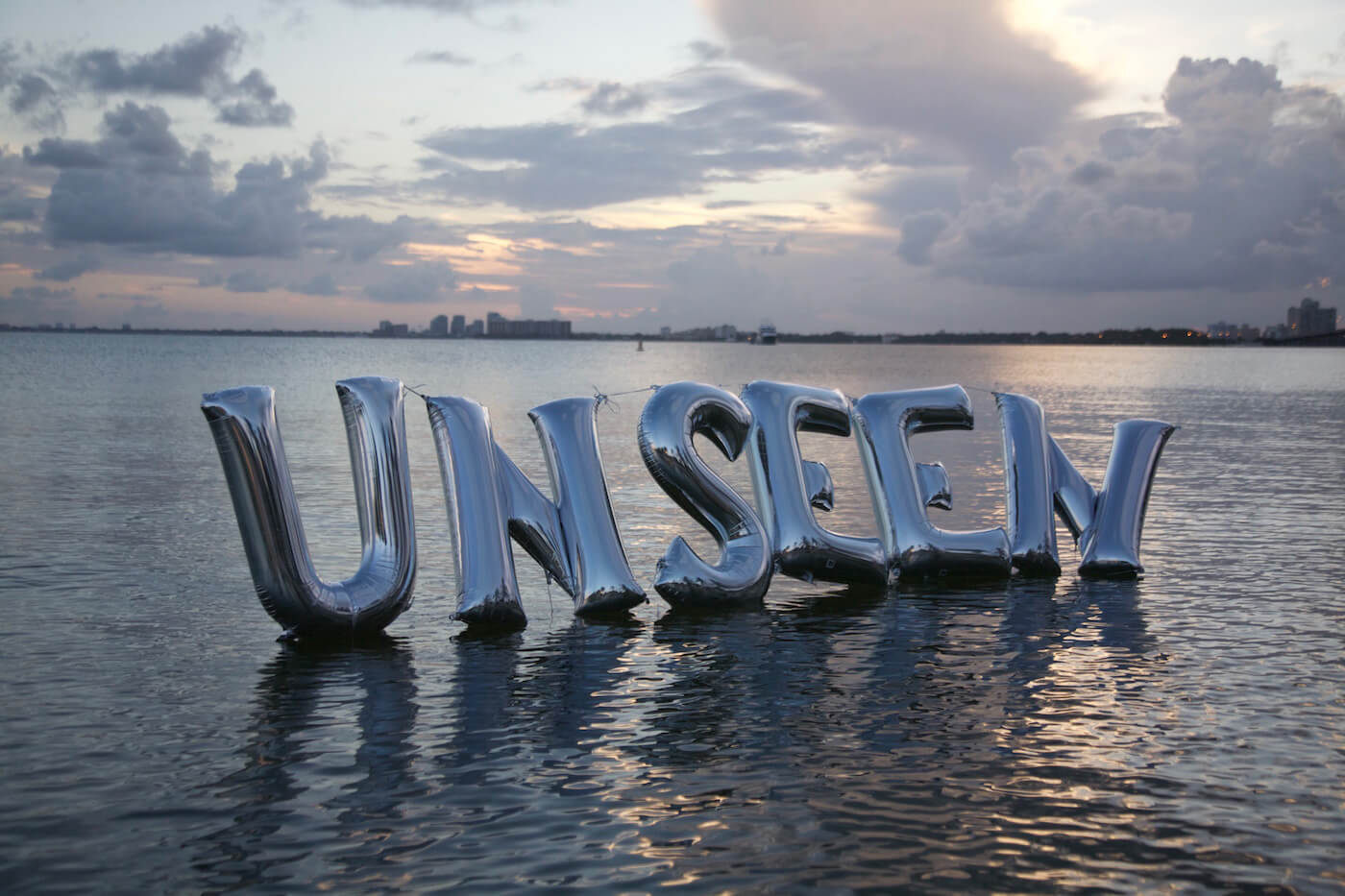 Last month, I watched Bill Fontana's Sonic Dreamscapes (2018), projected on the wall of the South Beach's hulking, Gehry-designed New World Center. Viewed from an undulating field of pink bougainvillea and manmade hills, the installation was heralded for its prettiness. "As the evening approaches," the press release went, "environmentally inspired abstract videos will emerge on the video wall, allowing visitors to experience a myriad of floating sounds and meditative images."
The video component is, yes, meditative. Fontana used vibration sensors, hydrophones, and microphones to distill and protract chirping birds and roaring waves. It comes on booming, the sea overlapping the sounds of cars, of children playing. Water is rendered like skin, soft and puckered. Sea swells give way to lily pads. The noises elongate and slow until they become bodily gurgles, steel drums. There's rainwater, as if from above, the wash of waves and crash of precipitation becoming a cradle. Water atop and below. A cavern. Or a womb.
First, though, I watched a video by another Bill—Nye—debunking the Book of Genesis's myth of the Great Flood, in which God effectively renewed the Earth, a cruel and violent attempt to flush the planet of its cruelty and violence. The video is part of Nye's debate with Ken Ham, the creationist. Nye asks: "If this Great Flood drained through the Grand Canyon…that would've happened on every continent. How could we not have Grand Canyons everywhere, if the water had drained away in just 4,000 years?"

The flood myth likely originated with the Epic of Gilgamesh, the Mesopotamian poem dating from the Third Dynasty of Ur (around 2285-2250 BCE). Flood myths are unique to no one, though each is unique. In legends by the Muisca, an indigenous community of Colombia, the rain and thunder god Chibchacum was horrified by his people's betrayal of divine law—he, too, brought a flood. In Korean mythology, a boy was born to a laurel tree and a fairy; when the rains came, the laurel instructed his son to ride atop him, like a raft, to survive.

Maybe everyone just really had to pee, goes one theory. In 1912 the Austrian psychoanalyst Otto Rank posited1—after admittedly little research—"that the need to urinate was transformed...into the sleeper's dream." He "felt there was a parallel between such individual dream responses to a basic need to urinate and the myths of floods." Later, Géza Róheim, a Hungarian psychoanalyst, agreed that "dreams are the primary source of myth and folktales," and referred to a Pomo Indian deluge myth in which a Coyote first dreams of a great flood before it begins to rain.
I have long thought, and dreamt, that Florida exists two-fold. First, on earth: a citrus-flavored appendage dangling off the rest of the country like a hanging chad. Florida Man. Gator wrestling. Zika. Worse: the place that sanctioned George Zimmerman's murder of a child. That supplies the tear gas thrown at migrant children in the recent disaster at the border (and others preceding).2 That birthed Rick Scott, our former governor and brand-new, dubiously elected senator, who helped engender the Red Tide through his support of Big Sugar and the lasers from his reptilian eyeballs.
Florida also lives in the dreamtime, so perhaps its wetness is appropriate. "Water is the commonest symbol for the unconscious," wrote Carl Jung in The Archetypes and the Collective Unconscious. We're the rest of the country's unconscious. Its bad dream. A nightmare of voter corruption and embezzlement and Stand Your Ground laws that many would rather pretend doesn't represent their America except, of course, it does.

According to psychoanalysis, that's the thing about a nightmare. It heralds a truth. Addresses a problem. Florida is prognostic: immigration issues, electoral fraud, climate change. When I spoke to Fontana about Sonic Dreamscapes, he told me that he focused "almost entirely on the rising sea-level issues around Miami Beach," referring to the city as "a ground zero for these issues." Rick Scott might've banned the phrase "climate change" from all official state documents, but we don't get to pretend it's not happening.
Water doesn't so much encroach here as grip, a pair of hands scooping the state, grabbing all sides. South Florida rests on limestone bedrock. It's porous, shot-through with holes that allow saltwater to rise from below, like dreams into consciousness. In Florida, the deluge myth isn't an origin story of rising tides. It's a premonitory dream of living with water. Water everywhere.
II
In October, my friend Misael Soto, who is currently the Artist-in-Residence at ArtCenter/South Florida, put together SAND, an amphitheater of sandbags. With the help of volunteers, it grew over the project's month-long duration, forming a semi-circle on a patch of a sand at the entrance to the beach (not far, actually, from Soundscape Park). Soto's amphitheater hosted poets, musicians, writers, activists, and, one night, sunset karaoke.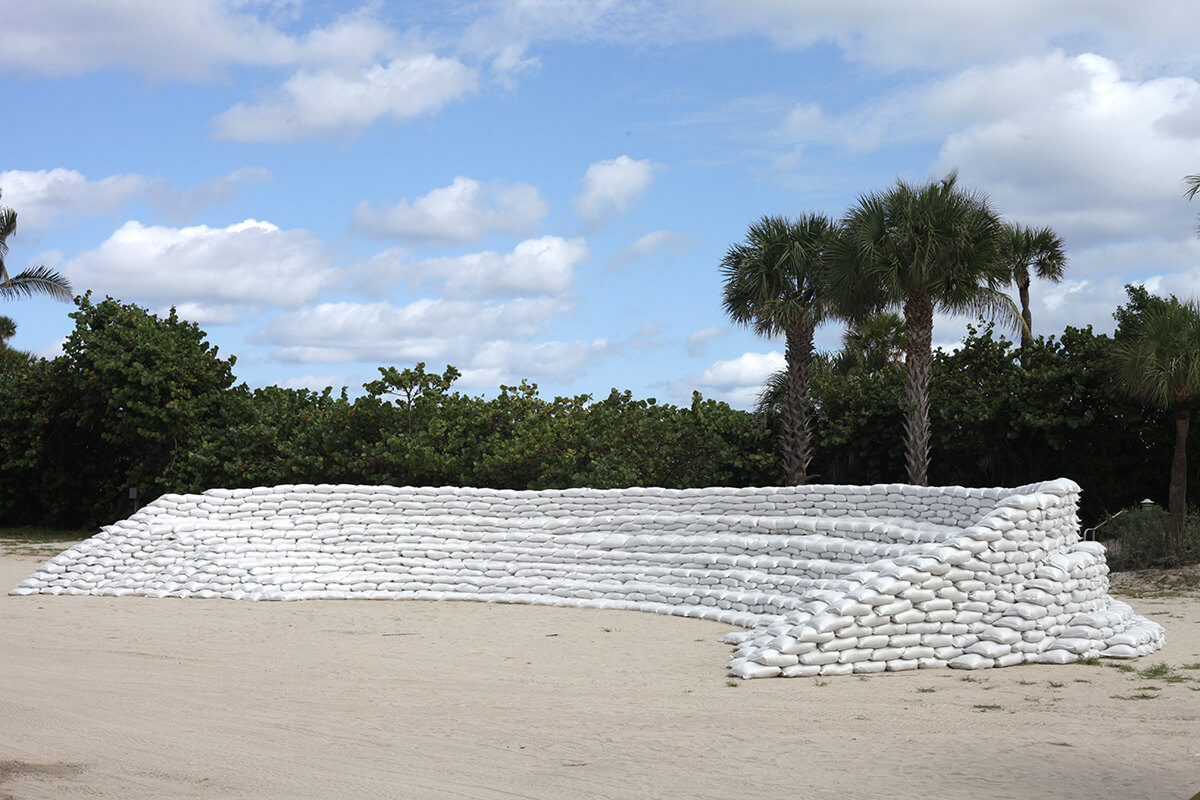 On SAND's final day, The World in a Grain author Vince Beiser spoke about, well, what else. Sand blew into my eyes, got into my socks. In exchange for climate strategies, the artist Laurencia Strauss gave out coconut popsicles shaped like—not snow globes, but maybe sand globes. Ironic, actually, because sand is a depleted resource. Primarily for its use in cement, Beiser said, sand is highly sought after. There are black markets dedicated to the stuff. Mobs. People have been killed over sand.
In researching sea-level rise, Soto focused on that which bordered the sea. "Land, including sand, and its theft from indigenous people, its trade, its movement via dredging and the building of artificial canals—that's why we're here," he told me. "And if we don't reexamine and interrogate those founding practices, I don't believe we'll ever be able to solve the problems we're facing now."

After Beiser spoke, Soto hosted a round-table discussion with the artist and architect Felice Grodin; Reverend Houston Cypress, a Miccosukee artist, activist, and ordained minister; Elizabeth Wheaton, the Director of the Environment and Sustainability Department at the City of Miami Beach; and Stephanie Wakefield, an urban geographer and research fellow at FIU. Conversation moved from sand to sea to the sensationalism of apocalyptic climate change, and of Miami as its biggest ecologic and economic victim. Miami as Atlantis. Miami as "the great world city…drowning while the powers that be look away," says The Guardian. If Miami was once a Cocaine Cowboy, or Christo and Jeanne Claude's gift-wrapped paradise, it is now a cautionary tale of Biblical proportions.
Grodin currently has an augmented reality exhibition on view at the Pérez Art Museum Miami (PAMM) entitled Invasive Species. Hold up your phone to find Cthulhuian jellyfish encircling the museum's mezzanine, hot-pink creatures that might appear, she imagines, after the water rises. I emailed her to ask how she reconciles the myth and reality of climate change in Florida. She wrote:

The planetary scale of these issues are so immense that they go against the grain of an individuated experience, which is more of a market concept. Climate change porn isn't close to the real thing: Water makes you wet. Wind can destroy your home. People can be killed. There's a slow build of a rising ocean that is not even politically agreed upon as real, yet there are real financialized instrumentalists that allow us to bet on a future that includes climate change. Mythos usually reflects a collective truth to some extent. What is ours? Who is telling it?
III
I recalled the Creative Time Summit in November, On Archipelagos and Other Imaginaries: Collective Strategies to Inhabit the World, and a discussion I attended: "Underlying" Miami—Imagining Climate Futures. There, Cypress, Rozalinda Borcilā, and Gean Moreno outlined the brutal application of market logic to climate change resiliency—efforts to fortify infrastructure and mitigate climate change's effects—a process that inevitably becomes racialized.
Explained Borcilā: "We are trying to use the framework of racialization and indigenous dispossession and the colonial logic of finance to say: In the framework of resiliency, where is the colonial disposition happening?" Florida, like the rest of the country, has a history of utilizing bodies as currency, and of benignant, palliative action as a guise for colonization. Climate change resiliency could be no different—Borcilā used the example of indigenous-held lands in the Amazon potentially being "seized from communities in order to make them amenable to climate agreements."
Jesse M. Keenan, a Miami native and researcher on climate adaptation and urban development at Harvard's Graduate School of Design, found that climate change resiliency is one potential pathway to climate gentrification. That is, gentrification engendered by shifting real estate values due specifically to climate-centered issues. Since 1971, Miami properties at high elevations have been appreciating, and while the involved factors might have little to do with climate change now—as opposed to, you know, garden-variety gentrification: the lack of integration of a neighborhood's original populations combined with overdevelopment—that will likely change.
That afternoon at PAMM, someone asked Houston Cypress, the Miccosukee artist who is active in the movement to restore the Everglades—and who I'd later meet in Misael Soto's sand amphitheater—about the indigenous community's perspective of what is to come. If resilience itself brings displacement, how might we imagine the future?
The Miccosukee Reservation in the Everglades is downstream from the city; Miami's figurative and literal runoff pools there. "A lot of people around here are talking about climate change and sea-level rise," Cypress replied. "The Miccosukee are forbidden from engaging in disaster planning. We may hire people to do this type of disaster planning for us, but generally, it is against our cultural practices and belief to engage in it. Our protocol is to sustain our cultural tradition by continual practice. If we were to engage in other activities, that's signaling to the Breathmaker what we want more of. If or when the sea rises, the Miccosukee aren't going anywhere. We don't have an escape plan. We don't want one."
IV
Earlier this year, a blue-green, pink-orange neon sign hung on the south side of PAMM, where much of the Creative Time Summit took place. Andrea Bowers' Climate Change Is Real (Pay Attention Phillip Frost) (2017) lit up like a lighthouse, or maybe like a boutique. The Pérez is located in downtown Miami, so the sign, big and bright, was visible from the causeway to Miami Beach. From Biscayne Bay. From the docks. From cruise ships, waverunners, and dinghies. If Miami's watery fate had pages, Climate Change Is Real, stamped on a waterfront limestone wall, could be its cover—its ostentatious scale, objective uselessness, and sincerity encompassing every opinion on climate change's veracity.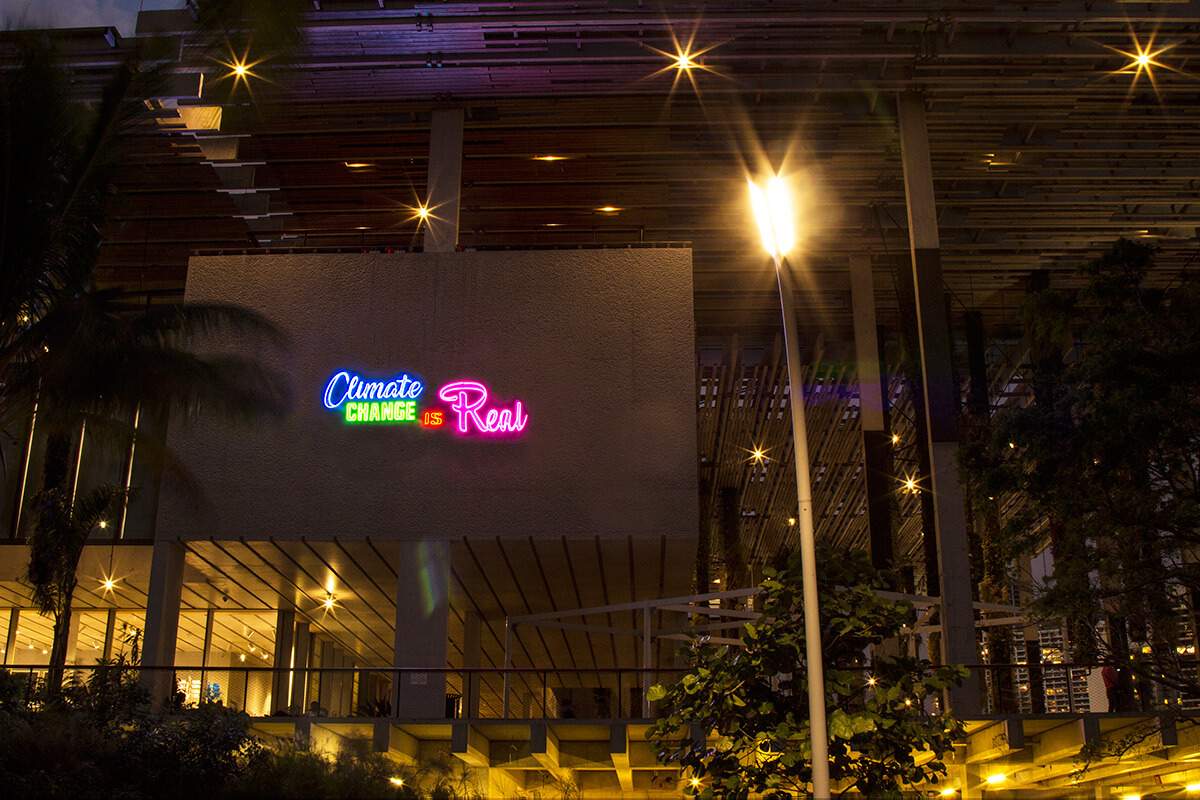 Not everyone needs a neon sign—lord, send us a sign!—to know that sea-level rise is real. In February, Valencia Gunder, a community organizer and activist from Liberty City, told The New York Times she'd heard developers describing her neighborhood as "future beachfront property." Liberty City, like many of Miami's historically black neighborhoods—Little Haiti, Overtown— is located in the city's interior and sitting at a higher elevation than, say, wealthier neighborhoods on Miami Beach, many of which are at sea level.3 Under Jim Crow, zoning laws confined black families to the inner-city, far from the beach. "The water may not be to our doors," Gunder relayed to The Miami New Times, "but the sharks are coming."
V
In Elizabeth Kolbert's New Yorker piece, "The Siege of Miami," she spoke with Bruce Mowry, Miami Beach's former city engineer. Mowry told her: "'I'm sure if we had poets, they'd be writing about the swallowing of Miami Beach by the sea.'" We do, and they are. Tim Watson's letter was included in a follow-up issue's "The Mail": "In fact, there are many writers and poets in South Florida; they are the engineers of imagination," he wrote. He shared an excerpt of the writer Cherry Pickman's poem, "How to Greet the Spring" (2015):

The sun was out/the flood came anyway the sea rose/to take the city plinth by plinth amaranth bled red/into twitching schools of silver/buttonwoods to think what you could have given/up here even the gulls are starving the fishermen/are fighting all the waters of the world/are troubled and suspect the Little River the little/god in you who lets you go on each day/is out of its depth out of darkness/you reel in dented cans they empty/through rusted stars as the world warms/and the rooftops clamber/for higher and higher ground.

I cat-sit for Pickman and her partner, Kara, and I live in the place she names, Little River. The flowers are amaranth-red and my street floods a little when it rains. The fishermen aren't fighting the water yet, but they will. They sit, patiently as statues, in Manatee Bend Park, where manatees come to roost. In the winter, the manatees sputtered spitty water onto my face when I leaned over to gaze at them, breathless and joyous. My friends and I gave them names: "Lil Breather." "Big Flip." Their bodies are scarred from boat rudders. Manatees have few predators; mostly, the enemy is humans.
VI
At SAND, Cypress reminded us: "Conflict is vital. I find myself at the intersection of many different kinds of community conflicts…But I'm also reminded of storytelling. Those moments of conflict are when the story advances. We've been able to find innovation. It's hopeful to be at the crux of all this conflict." They also offered another thought, gestured to us, an invitation: "We should be careful—in our rush to defend a particular portrait of Miami—that certain characters aren't erased. Brown and black bodies. The body of the earth."
VII
There's a running joke about South Florida: why the hell are we living here, anyway? Alligators creep into pools, snack on puppies. The sun is unrelenting, the humidity an affront. Poor neighborhoods lack shade, wealthy ones flood whenever it rains. I have seen egrets, crabs, and chickens crossing Biscayne Boulevard. During a cold snap while I was in high school, an iguana fell from a tree, right onto my classmate's lunch.
Early colonial accounts of South Florida describe it as an awful, insect-ridden horror of heat and slime. Napoleon Bonaparte Broward, Florida governor from 1905 to 1909, insisted he'd "drain that abominable, pestilence-ridden swamp."
In "A Requiem for Florida, the Paradise That Should Never Have Been," a 2017 piece by Michael Grunwald for Politico, he writes, "Those Seminole War soldiers would be stunned to see how this worthless hellscape of swarming mosquitoes and sodden marshes has become a high-priced dreamscape of swimming pools and merengue and plastic surgery and Mar-a-Lago."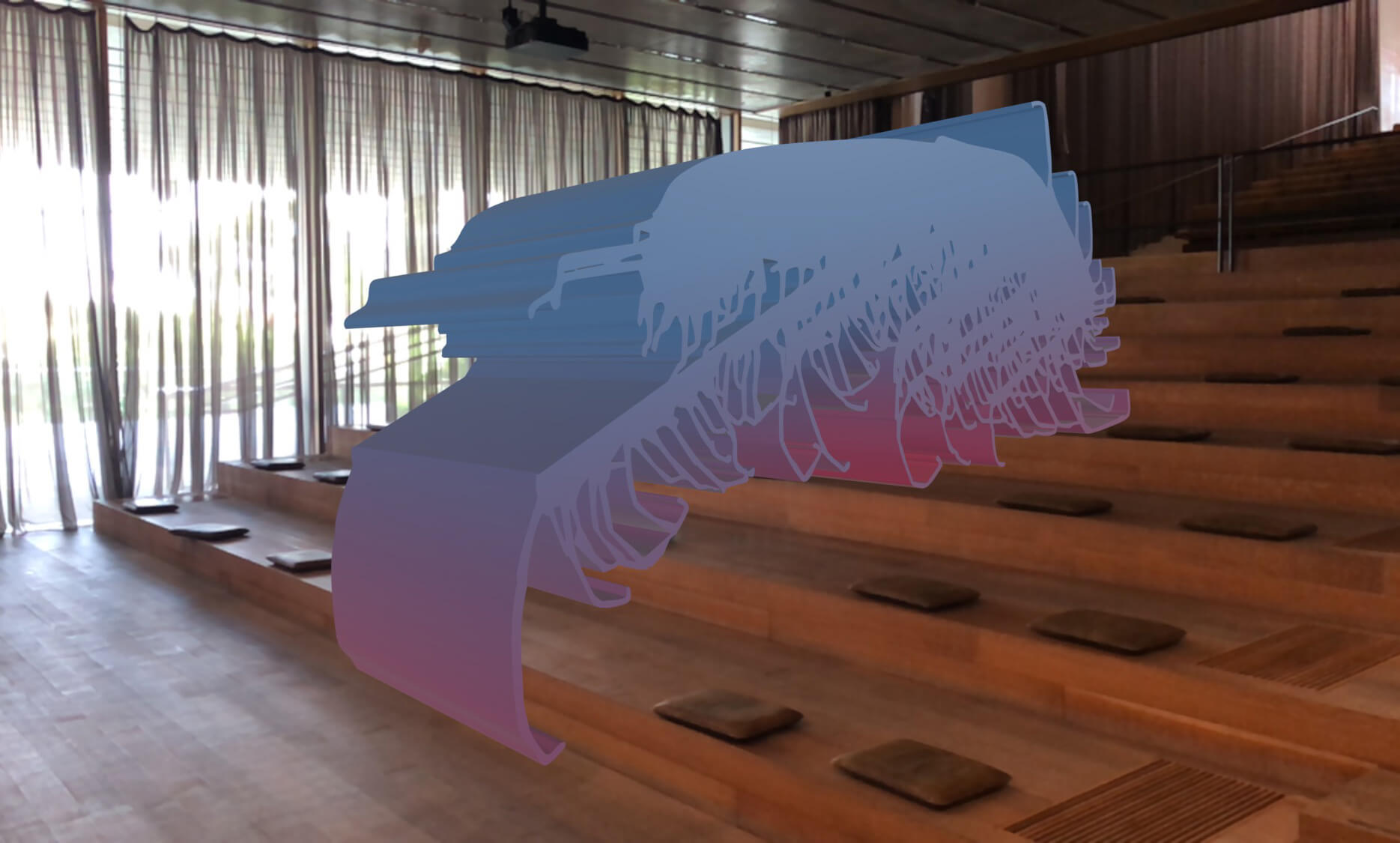 It's unlikely that South Florida, pre-colonization, ever seemed a worthless hellscape. It was probably just fine long ago, when the Everglades were undredged, when the Tequesta, and then the Seminole, were its primary inhabitants, when sea-level rise moved along at its own pace. The trouble is our unwitting interventions—a problem of colonization, or perhaps of civilization. I don't buy that any bit of nature has ever been untouched. It's a useless notion to romanticize. Better, maybe, to imagine living next to nature, with it.
VIII
Ishmael Bermudez's Well of Ancient Mysteries is in Brickell, a neighborhood of high-rises and indissoluble traffic and, now, a very, very big mall. Bermudez's home is small and wooden, painted with dolphins and goddesses. There is no yard to speak of, because Bermudez has excavated it. The landscape is all limestone: bulbous, porous, sharp. Tide pools rise and fall with the phases of the moon. The Colombian-born Bermudez has Pueblo and Navajo roots; he's lived in Miami since he was eight, and in this house nearly as long.
He began digging in the yard during the Cuban Missile Crisis, out of fear of radiation in the tap water. He knew there was a source of water under the house that once belonged to the Tequesta—a schoolteacher told him about it, and a Native American woman named Queenie, a family friend, directed him to it—and then, one day, there it was. Next to a mango tree, uncorked by Bermudez. The freshwater spring still flows, still tastes good and cool. More than one archaeologist has confirmed that Bermudez, in his digging, unearthed Tequesta objects in his backyard, as well as bones and prehistoric shells. The Miami Circle, an ancient Tequesta site, is blocks away.
I visited Bermudez last week. We talked about dreams. He mentions goddesses a lot—he had lots of women around him growing up—and he recently painted two. During Miami Art Week, he'll open up his home to showcase them, along with work by the late Burke Keogh, a painter and another goddess responsible for the murals on Bermudez's walls. The Goddess of the Well of Ancient Mysteries (Milu) (2018) is in a small room and lit by a blacklight; she kneels, and the patterns and shapes surrounding her recall Gustav Klimt in their cubed repetition and shine.
In the backyard, The Goddess of the Well of Ancient Mysteries (Judina) (2018) is a woman in white, floating. "She's a goddess who came through the vortex in that dream I had," Bermudez told me, as if he'd mentioned it before. "Floating through the limestone." I asked him if he's nervous about sea-level rise. "Don't worry," he said. "Miami is already cracked."
IX
I was reminded of another painting, one I've never seen in person, but that moved me to tears anyway. When my friend Michael Vasquez exhibited his paintings at the National Portrait Gallery, they were described as dramatic, partly for their size. They're comforting: giant, hyper-masculine men rendered tenderly—they're his real-life buddies. Paint daubs like a stroke of the hand on a cheek. Bandanas around a face are colored in a signature-red, like cherries, or roses, not so much like blood. Light is referenced, but it feels sourceless, heavenly.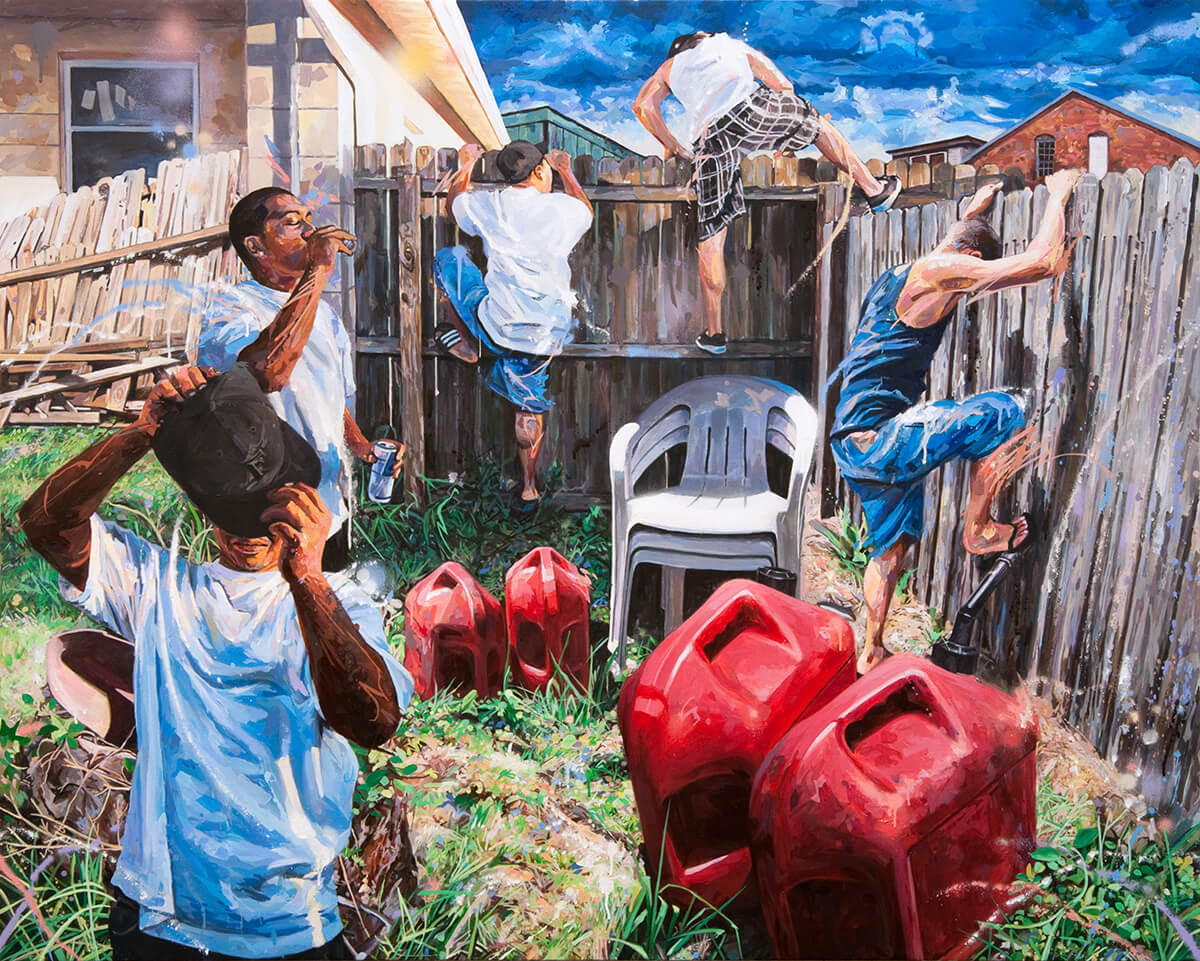 In 2017, he painted Beyond the Pale (Party Wall). The work was part of his solo exhibition, We'll Weather the Storm Well, which alliteratively sounds like a ball bouncing down stairs. All those round Ws. Five men are in a backyard, drinking beer, climbing a fence in sandals. White plastic patio chairs are stacked in anticipation. His signature red is in the gasoline jugs. One fence has already caved in. Neglect, maybe, or apathy, which are not the same thing.

The scene is familiar if you've ever been faced with a Category 2 or 3 hurricane, the kind for which you'll stay put. It seems mild hurricanes will someday become the exception. Vasquez tells me he was referring not to hurricanes with We'll Weather the Storm Well, but sociopolitical turmoil. Still, I remember the weeks before Hurricane Irma made landfall, when it was headed straight for Miami—the cries to leave and the candor of folks who simply couldn't. It required gasoline, places to stay, time. Getting out is a privilege. Weather the storm well; it's, well, inevitable.
X
My friend Nicole Salcedo—I call her Nikki—did not leave. She's a Cuban-American painter and illustrator, invested in and obsessed with Miami's flora and fauna. Salcedo communicates with all of it, climbing through the mangroves to speak with them, part of a meditative practice that precedes each work. I asked her over the phone what her version of the myth was, her imaginary future. She's hopeful. She just spent time with the trees, and felt, from them, a sense of resilience.
"I think it'll be like an Octavia E. Butler story," she said. "The high-rises on the beach will be abandoned by the rich. And then the rest of us, who couldn't leave, or who chose to stay, will occupy them. That's far more likely than some sort of utopia." We'll row boats to the fourth or fifth floor, climb through a window. Live without staking a claim. Like Noah's, our flood ends one story just to begin a new one.
https://www.jstor.org/stable/3267394?seq=1#page_scan_tab_contents

https://www.miaminewtimes.com/news/migrant-caravan-tear-gas-company-safariland-is-from-jacksonville-florida-10935183

https://www.scientificamerican.com/article/high-ground-is-becoming-hot-property-as-sea-level-rises/